I can show you…. I ate one in the Helsinki airport's Restaurant & Deli Fly Inn two weeks ago en route to Toronto.  Believe it or not, the primary reason I chose to fly Finnair from Prague to Toronto was to make a stop in the Helsinki airport for a reindeer burger; that and I had read somewhere that the Helsinki airport was one of the better, more enjoyable airports to layover. So why not give it a shot, right?  We booked our flights and I waited for two whole weeks in anticipation for this burger.  Was it going to taste gamey?  Would I like it?  Was I really prepared to eat Rudolph, as my husband teased me?
Before I get to the burger, I will say the airport is aesthetically beautiful.  It is wood, wood, wood and more wood.  Modern, shiny, minimalist, and full of design objects.  The lounges and restaurants are furnished with Finish designed products such as Iittala plates, cups, dishes, mugs and I even found a few very comfortable Eero Aarnio Bubble chairs (Finnish Designer) to sit in!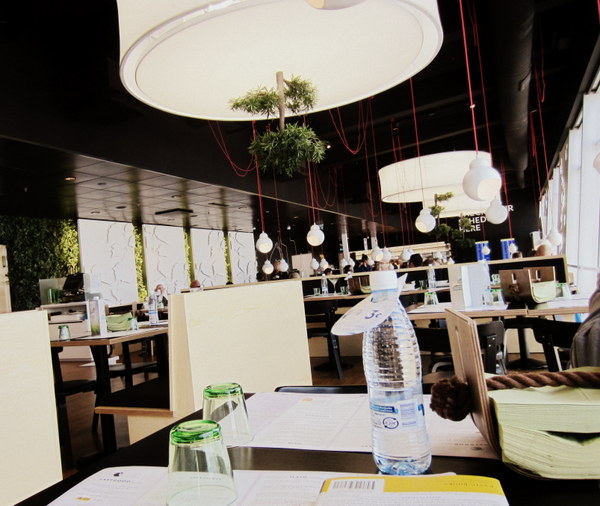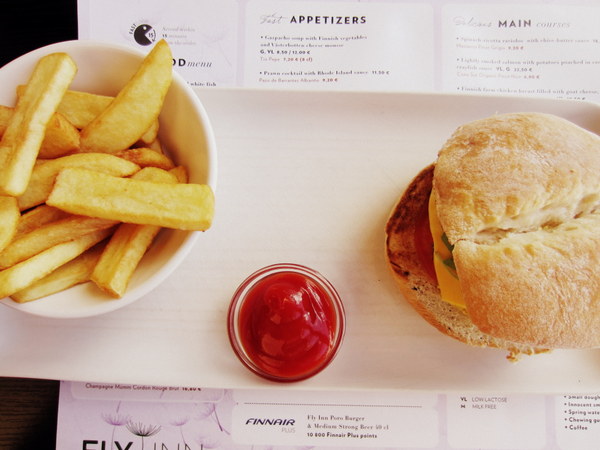 The burger was served on a fresh bun with lettuce, tomato, mustard and cheese.  It was cooked medium rare and was the type of messy, gooey, drippy burger where you pray for hand wipes or several napkins.  I was surprised by how un-gamey the reindeer tasted and quite enjoyed my lunch.  The only drawback was of course the price!  We paid 21 Euro each for two burgers.  Yikes!  However, after consulting with a friend from Sweden, he said that 21Euro is not outrageous for a good burger in a Scandinavian country- that and of course the price was marked up given that we were eating it in an airport.  What can you do when you are held captive in an airport and determined to try reindeer.  Suck it up.  The other cool thing about the restaurant where we dined on reindeer burgers was that it overlooked the runway so you could watch planes fly in and out.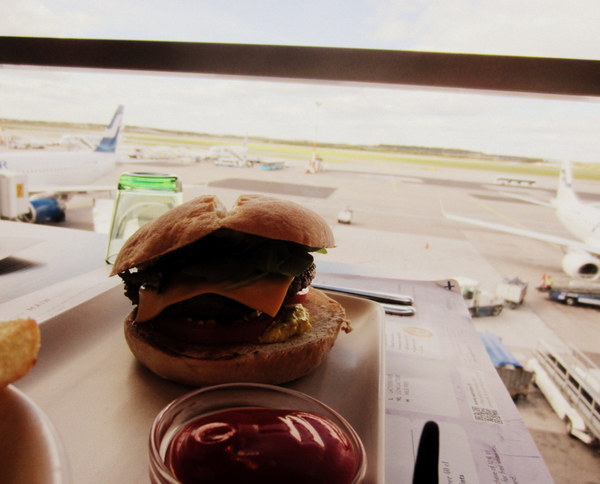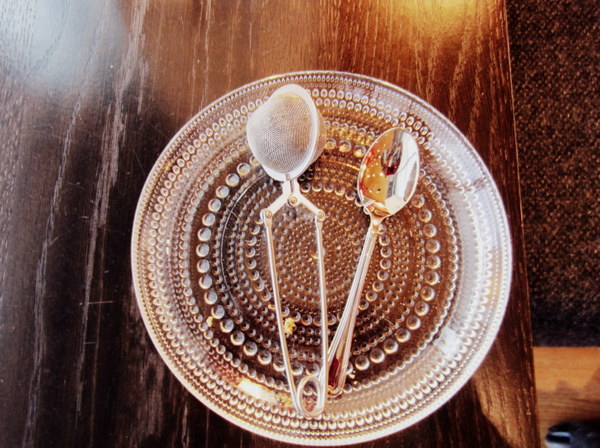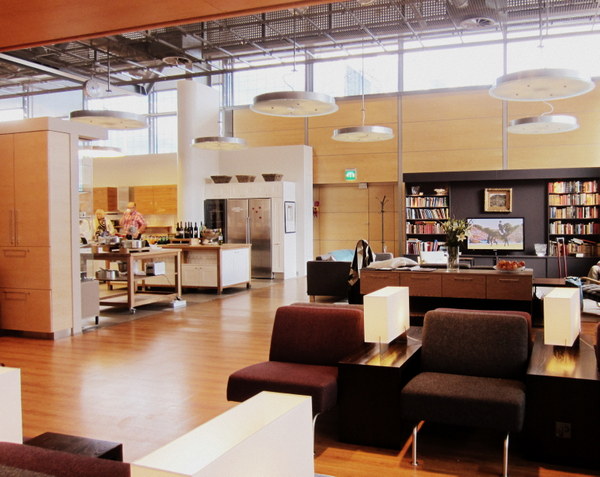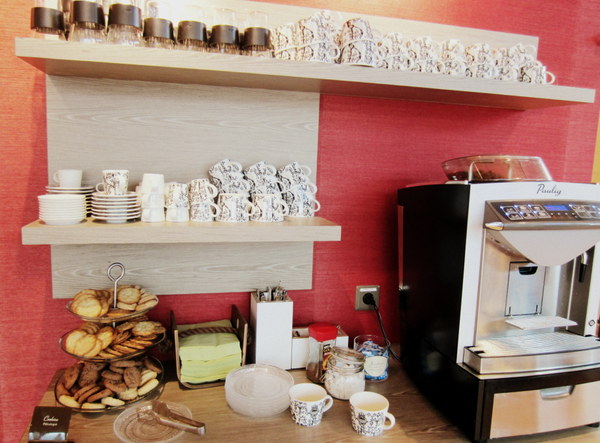 Some final closing comments on this experience:
1. The airport is indeed beautiful with its sleek, Finnish design, Paulig Coffee and Marimekko and Stockmann boutiques BUT- it is an incredibly expensive.  Noticeably expensive.  I was sad to see that the Starbucks was under renovation because its menu price list could have helped me prove its high cost of goods relative to other cities.
2. Outside of a cafe or three, a bar, and one expensive restaurant, this is not the airport to be hungry in.  We both felt that the food options were sparse and unsatisfying, which is why we were lucky enough to retreat to the lounge to find a few more snacks.
3. Finnair put us on an old Boeing 757 with the drop down TV screens and zero leg room on a transatlantic flight that was packed.  Not the most pleasant and it reminded me of a discount flight that you take to the Caribbean, but I can dig it.  What annoyed me the most was the lack of accommodation for take on luggage. I had a full out argument with two Finnair staff members when they gave me an ultimatum, as I was boarding the plane over whether I was getting on the plane or not when they told me I had to check my carry-on luggage (regulation size) at the last minute which contained my wedding dress, shoes, veil and jewelry.  I was not prepared to deal with the emotional stress of having lost bagged in Toronto and ended up emptying the bag (and checking an empty suitcase) and carrying all my wedding gear on my lap for 9 hours back to Toronto.  Sorry Finnair… my business will be taken elsewhere on future transatlantic flights. Brides be warned!!
4. The reindeer burger was awesome + worth it for the experience.
Anyone have a similar experience with cool airports, interesting airport food or beautiful lounges?  Would love to hear your thoughts.
|
0 comments