Posted by
sarah
on Jun 20, 2012 in
Design
,
Helsinki
|
0 comments
Did you know that cities get nominated as world design capitals?  This year, Helsinki holds the spot for the 2012 World Design Capital.  I think being nominated as a world design capital is kind of a neat concept.  Typically, cities are ranked on cost, livability, congestion, or environmental friendliness but design?  That's cool.
The organization behind the World Design Capital award, seeks to recognize and reward cities who have done an excellent job integrating design into all aspects of city life.   It is no surprise that the first four cities (awarded every other year) won, however I could think of a few more to add.
In 2008, Torino (Italy) was nominated as a WDC thanks in part to its re-positioning from an industrial city to a tech hub that has attracted a wave of entrepreneurship and creativity.   Seoul won in 2010 followed by Helsinki in 2012 and Cape Town (SA) has already clinched the spot for 2014.
I am a fan of Finnish, modernism design.  In addition to producing lots of well known architects, designers and brands such as Alvar Aalto, Kaj Franck, textile company Marimekko, glass/tableware company iittala, Muuto and Tonfisk, you don't have to look too far in Helsinki to see evidence of design integrated into daily life/business. Architecture aside, one of the design forward hot-spots is the city's impressive design district.
It has some interesting places to eat, stay and shop.  So far my pics include:
Photo Source: 3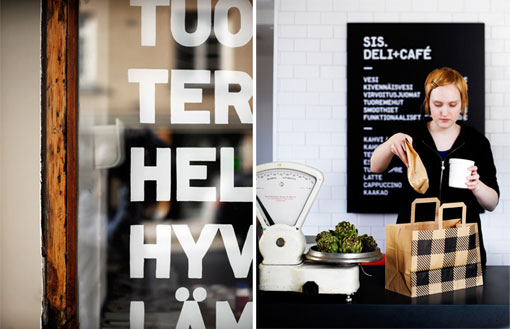 Cool sushi bars…
Eco-design shop, Nudge
Photo Source: 9