I like a good mountain get-away.  I am a non-skier/non-snowboarder but when I am in the mountains, I can unwind, I can breathe and I feel relaxed.  There is something about walking outdoors surrounded by mountains that is humbling and grounding.  I also like eating muesli, which can always be found on the menu of an Austrian alpine hotel. Double score!
Let me tell you a bit about taking a mini getaway to the Austrian Alps.  Living in Europe makes a weekend getaway to the Alps very plausible (not just the Austrian Alps- really any Alp range in Europe).   We flew one hour from Copenhagen to Munich, rented a car and drove about an hour and a half south into the Tirol region of Austria, where we checked in at DasPost Hotel.
This hotel was adorable with its contemporary wood and stag interior design.  Come to think of it, DasPost was stag happy!  I tried to snap a couple shots around the place.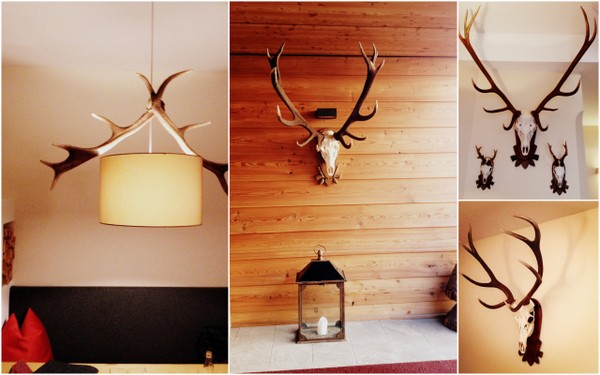 In traditional alpine custom, there was lots of wood used throughout the hotel.  As we drove through the valley towards our hotel in Zell am Ziller, we passed several lumber/timber yards.  My favourite room in DasPost was the breakfast room.  There were floor to ceiling windows on three sides of the space with sliding glass doors that could be opened when the weather gets a bit warmer.  They accented this 'sun' breakfast spot with modern light fixtures, bold coloured felt chairs, a brightly patterned fabric on the banquet wall seats and a single tulip in a white vase.  When you look out, your view is to the hotel's backyard which is an outdoor pool, decks and one of their outdoor saunas.
The basement of the hotel came equipped with four lovely saunas and they also had a spa, a fitness room plus an indoor and outdoor pool.  All the right components for a relaxing non-skiing weekend.  (Remember- saunas are naked-only in Austria)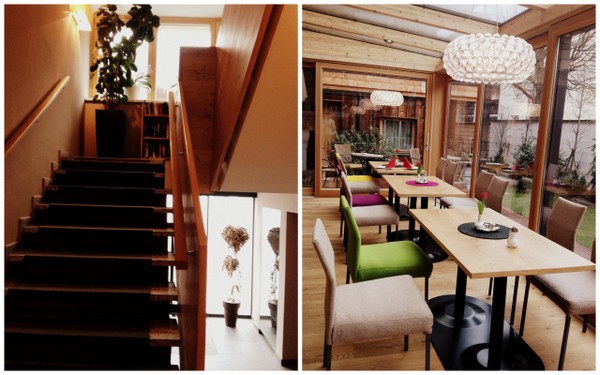 Zell am Ziller is a small village (one of many) dotting the mountains of Tirol.  Right across from the hotel was an inter-village train that you could take up to the ski area.  There is also a run/walk/bike park, a nicely groomed path that runs along both sides of the river, where you can run/walk/bike for kilometers on end.  I tried it out on foot one morning and it was great.  Everyone said their hellos, and good mornings as we passed one another.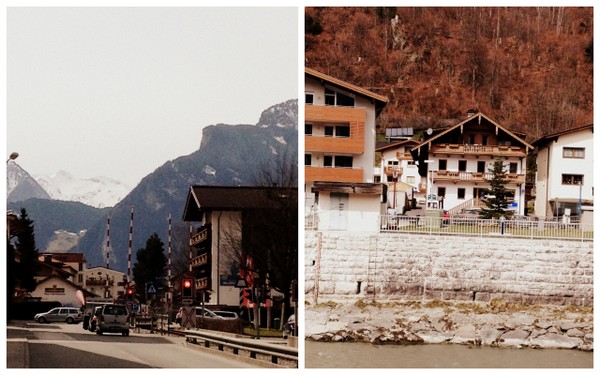 Of course since I was in Tirol, I did a bit of MPREIS hunting.  MPREIS is my favourite Tirolean grocery store chain.  Each MPREIS is designed by an architect and they are all made to look different from the exterior.  They stock each store with a lot of local produce and the shopping experience is just a pleasure.  I think I found six on this trip. It's like the where's Waldo game, but I play the "where's MPREIS" game.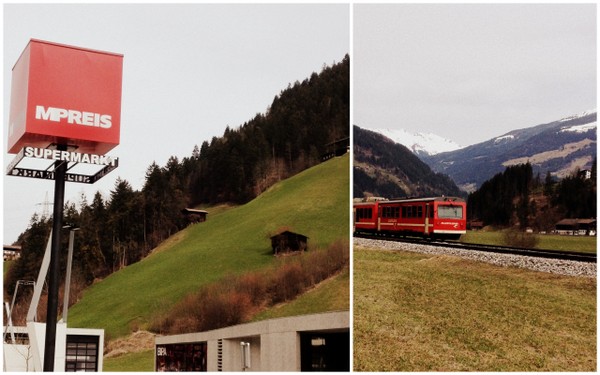 It is no wonder that the timber industry seems to be alive and well in the mountains, all the houses, hotels and buildings seem to be made of wood or have wood trimmings and accents.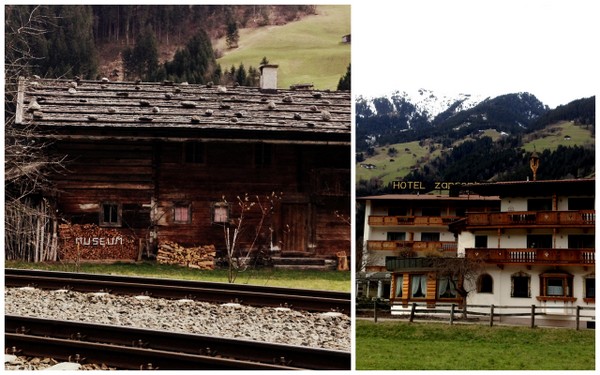 Depending on where you stay in the mountains the food can be rather hit or miss.  I found one bit HIT but I will write about that in a separate post.  For the most part, there is an overabundance of apfel strudel and pizza.  On this trip, I ate pizza three days in a row at three different restaurants.  I had pizza coming out of my ears by the last day.  It was a total pizza overdose, and now I am on a no-pizza mission until I am detoxed from it.  -FYI when you order a vegetarian pizza, it typically comes with corn on top!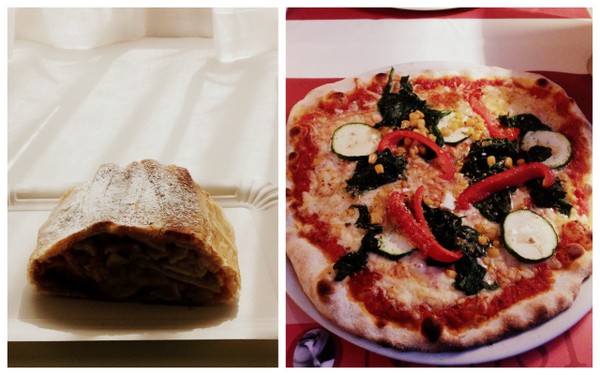 All in all, our mini getaway was a perfect vacation after a hectic trip to Toronto.  We even to a detour and drove down to the famed, Aqua Dome, a therme which has received a lot of press for its interesting architecture.
If I had to choose where to return, I would go back to Bad Gastein (see below) over Zell am Ziller, but that is because there was a bit more to do there (for me).  For my husband, the snowboarder, the Hintertux glacier and Zillertal mountains were more than enough to keep him happy.
________________________________________________________________
My last mini getaway to the Austrian Alps was to Bad Gastein and you can read about it here.
|
0 comments