I am on my honeymoon right now which is why my posts have been a bit more sporadic, but thought I would write a quick post about a spectacular hotel that got away….
I love the hunt for hotels when prepping for a vacation or travel as I consider hotels to be an important component of my stay.  While I do not spend every waking hour in the building, I appreciate a well designed, well thought out space with excellent customer service, unique design touches and a solid breakfast.  Over the past week and a half, I have stayed in some pretty spectacular properties all over the spectrum ranging from mountain lodge, vineyard, castle, city hotel and rustic house.  However, while flipping through some old issues of Conde Nast Traveler, I found out about a hotel that was no more than 10 minutes away from where I am currently staying that I am disappointed I didn't find earlier!
Moli Del Mig is a boutique hotel located in Torroella de Montgri, (Girona) Spain and was converted from a mill into a hotel in 2006.  Since it was a conversion, half of the hotel is located in the old mill that has been restored, and the other half is located in the newly built section.  The interior has a rustic, yet modern feel with a lot of exposed brick, unfinished wood beams, large glass windows looking out over the property, steel and concrete.  It is not overly dressed up with furniture or art, just simple statement pieces of furniture sporadically placed here and there.  The hotel itself is located in a rather remote feeling area.  It is located just outside the town of Torroella de Montgri in the middle of a farm area with bamboo,  corn fields and apple trees in the adjacent properties.
Moli Del Mig also has a spa and a phenomenal restaurant that my husband and I dined at for lunch.  Since it is moving into off season, we were the only ones in the restaurant for lunch today, but what a lunch it was.  I will blog about the meal in the next two weeks when I have better access to technology but I will say that the tuna I had will go down as some of the best tuna I have ever had.  In the mean time…. I would have loved to stay at this property had I known about it before when I was making my travel plans.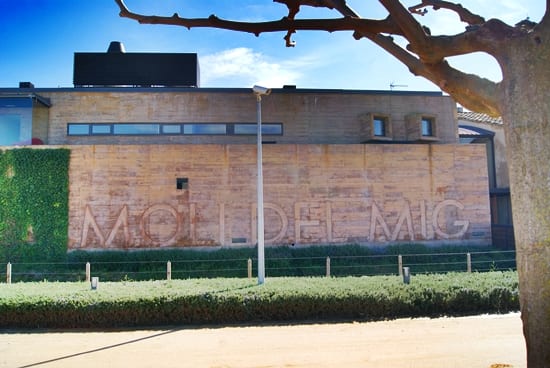 |
1 comment