When I moved across the Atlantic Ocean, do you know what I craved the most?  It wasn't bagels and lox and it wasn't kreplach.  It was bubble tea.  From my first sip, I developed a love affair with the Taiwanese beverage.  Toronto just so happens to be an incredible city to satisfy a bubble tea fix.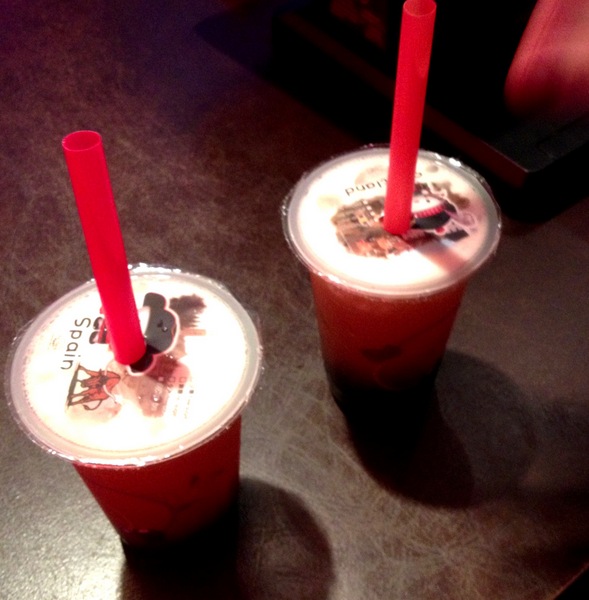 Drive north of Sheppard Avenue, on Yonge Street and you'll find one bubble tea house after another.  If "905" is more your style, drive east along Hwy 7 between Bayview Avenue and McCowan Road (try Go For Tea for an authentic experience) and you'll be covered.   Downtowners, don't have to look past the Spadina and Dundas/OCAD area. But what happens if you leave the confines of Toronto and venture off into the world?
I was having a bubble tea conundrum when I discovered bubble tea was not a universal drink, particularly in EU countries.  To double check, I spoke with a few business school classmates who were posted around the world.  It's confirmed: Bubble tea is not universal.
So what did I do to satiate my craving?  I researched and travelled.  Wherever I was due to travel to a new European city, I purposely sought out a bubble tea cafe.  Hot or cold, green or black tea, with or without milk, and filled with all the dark brown, chewy tapioca balls I could suck through the oversized straw.  I was determined to sample them all.  However, I draw the line at those popping boba; the ones that burst upon mastication and splash sweet syrupy juice onto your tongue.  I guess you could call me a bubble tea purist.
What I discovered was fascinating:  Bubble tea was in fact, alive, kicking and even thriving in certain cities.  Leave it to the UK, Germany and Austria to lead the pack.  London's Bubbleology, a bubble tea café themed after a science experiment, has five locations in the city, while Baburu Bubble Tea in Vienna has six shops and Berlin's Boobuk also has six outposts in the creative city that never sleeps.
Stick with Western Europe and you will find bubble tea emerging in Barcelona, where Wow!Boba is not too far from La Rambla, and in Paris' 5th arrondissement where you can sip le bubble tea at Bubble Fever.  Even Copenhagen has the Mad Hatter Bubble Tea Emporium in Norrebro.  I didn't stop there.  In eastern Europe, you have Bubbletea 7 in Warsaw, tongue twister, Bubu Bubble Tea in Budapest and my personal favourite, Tea & Go in Prague, which opened in Karlin (Prague 8), by three Chinese Studies students from Charles University who share a passion for Chinese and bubble tea.
While the availability of bubble tea in European cities may not reach the same scope as in Toronto, there are plenty of good options at home and abroad and I look forward to continuing my taste test through the continent.  By the way, if you are new to bubble tea, may I recommend trying a litchi green tea bubble tea, cold with tapioca.  It is the perfect summer drink.
0 comments