Oslo: An incredibly expensive city that we will never return to.  On Friday afternoon, we boarded a ship in Copenhagen and relaxed while listening to the hum of the engine. One picnic, two movies and 15 hours later, we arrived in Oslo at 9:30 the next morning.  We had no expectations except to see Snohetta's Opera/Ballet house, taste some Norwegian salmon and drink the coffee of the World Barista Champion, Tim Wendelboe.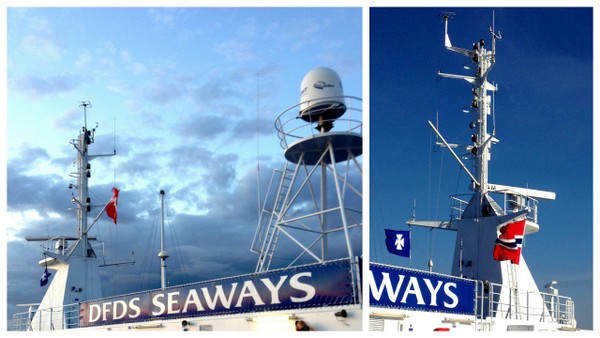 The population is 600,000 in the greater Oslo area, which means, it's tiny. It's a sleepy backwater of a 'town' which I would equate Oslo to London, Ontario in size.  There are a few affluent pockets which look like the upper east side of New York without all the retail, one artsy-up and coming neighbourhood, a modern new redevelopment mixed use project (retail, commercial/residential/institutional) on the waterfront and a downtown core that is falling apart/neglected and empty.  There is nothing going on here except for busing tourists in and out,  fishing, oil and putting oil dollars to work with new construction projects- the new harbour (it's stunning!)- that and mediating global conflicts which the Norwegians are apparently quite good.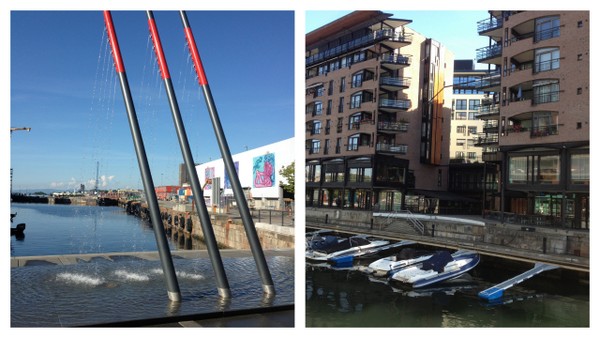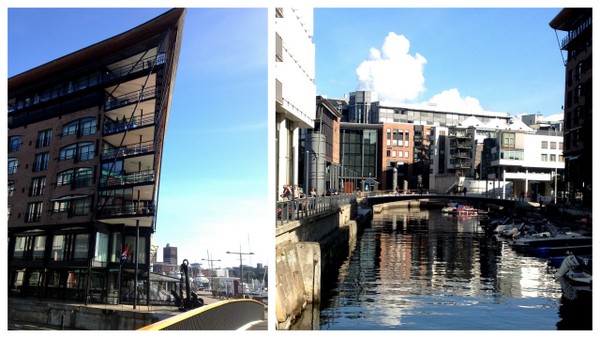 Tumbleweeds role by in the downtown core.  We're talking a total ghost town. Where do people go on the weekend?  It was visibly lacking people.
Perhaps people come to Oslo as a gateway to nature, or that Norwegians vacate the city to their summer homes every weekend.  The lady at the front desk assured us that this weekend was busy in the city because the Europeans were still on vacation.  This was in good weather- sunny 21 degrees. When the weather turns to winter- what happens? We were wondering where all the people went at night because it sure wasn't in the city.  The harbour had people, the artsy neighbourhood had people, everywhere else was empty!
The raw fish, which is hands down, the best/buttery/melt in your mouth goodness, is only matched by the quality of coffee in the city (my husband's observation- I am still a tea-only drinker).  My travelling partner must have consumed three coffees a day and we were only there for 36 hours.  We visited four major micro-roasters (Tim Wendelboe, Kaffa, Fuglen and Supreme Roastworks– there are two others that I could count)  in the city who are in fierce competition with one another, which keeps coffee quality high and clients caffeinated. I suppose coffee tourism could bring in dollars- now at $7 a cup- it's a reminder why you should brew your own at home.  Speaking of cost- Copenhagen looks like a discount in comparison to Oslo.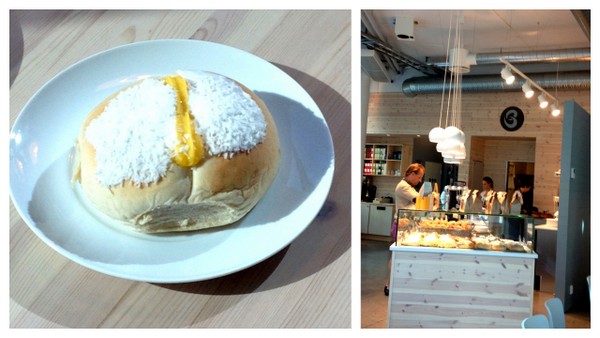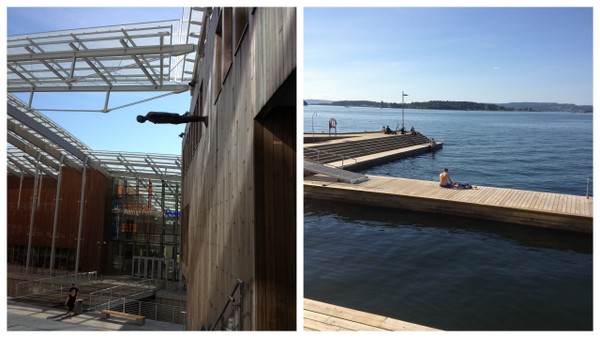 I read in PHAIDON's Where the Chefs Eat book, that one stand out spot in the city was an American diner called The Nighthawk Diner.  I thought it would be neat to eat at an American diner in the artsy part of town and have a bit of a break from new Nordic cuisine.  One tuna salad, one pulled pork sandwich, and two ice teas later our bill comes to $70. Mini heart attack!!    Enthralled by the experience and hungry for more "comfort food" we decide to return the next morning for brunch.  Two blueberry pancakes and two teas later our bill comes to $50.  Double heart attack.  Even one of the many pastries we sampled, you could not walk out of a bakery for under $10/$15 for two pastries. Nevertheless, it is part of the experience and a reminder why 36 hours in Oslo is more than enough time to go broke.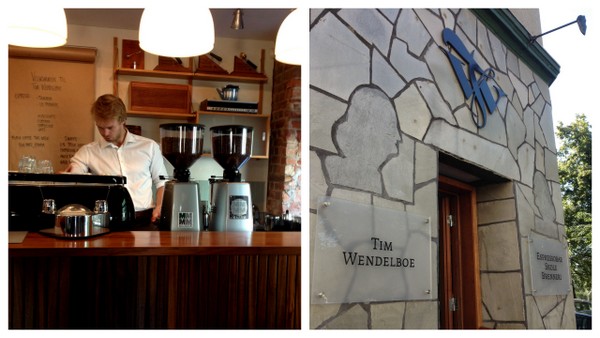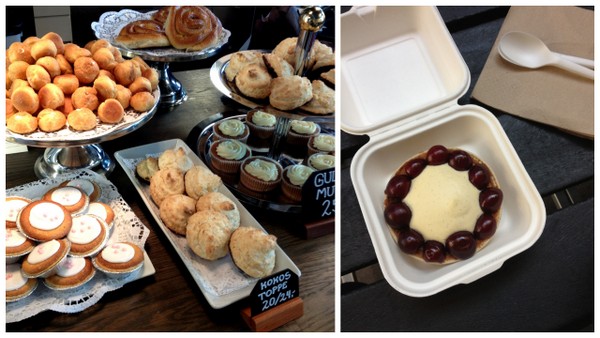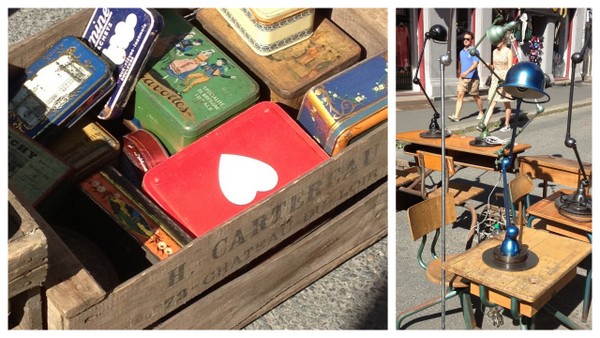 One standout part of the city was the Gustav Vigeland Park- Vigeland was a Norwegian sculptor (died 1943) who specialized in bronze, granite and wrought iron. He made an odd arrangement in the city after his house burnt down- where the city would grant him"free housing/studio" as long as he agreed to donate all subsequent works to the city.  Over 20 years he crafted 200 sculptures, which all belonged to the City of Oslo and are sitting in a massive sculpture park in the nicer part of the city.  His most famous works include the Monolith – there is a photo of a totem pole of people climbing to the top all carved out of one piece of granite- the angry baby, which I could not shoot because it was mobbed by Japanese tourists both times we visited the park, and his circle of life bronze sculpture. It was beautiful and worth visiting.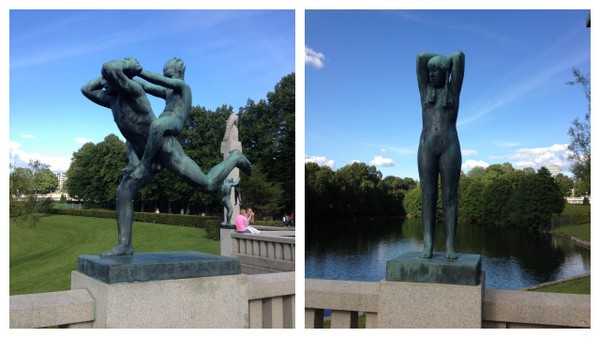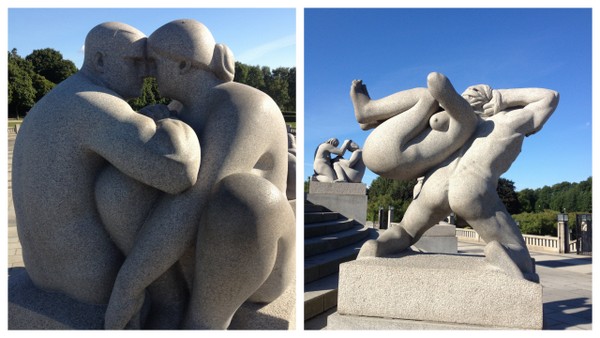 The best way to end off an evening in the city is to climb the roof of the new Opera/Ballet house and watch the sun set over the harbour.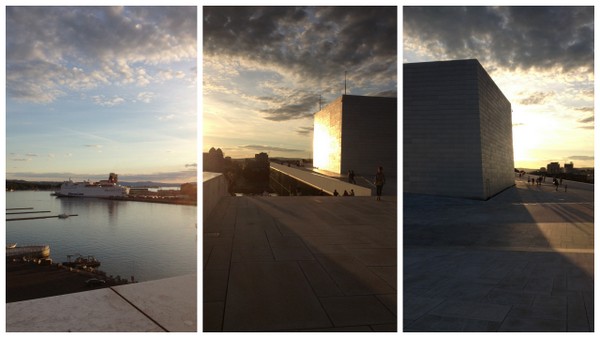 My Oslo Weekend Map:
|
0 comments