Posted by
sarah
on Aug 7, 2013 in
Food
,
Hamburg
|
0 comments
For all you breakfast lovers out there, listen up!  If you find yourself in Hamburg, here are two great spots for breakfast. I am slowly collecting a list of European breakfast spots and sometimes feel a bit like Guy Fieri in the television show, Diner's Drive In's and Dives! I've eaten breakfast in over 20 cities in the past two years, so the "experience" is mounting.  When you find a keeper, I call it the equivalent of finding a good American diner in Europe.  They have good, reliable food, good energy, often a unique decor, and a menu that includes a few local specialties (most important).
I spent three days in Hamburg and prior to my trip, read through several blog posts, newspapers and online review sites to figure out where I should have the most important meal of the day. My first and third stop was none other than Cafe Paris. Cafe Paris is located in the center of Hamburg and is housed in a space that dates back to 1882.  The original slaughterhouse was later converted to a turn-of-the-century French cafe and today is beautifully adorned with iconic French cafe decor features such as its dark wooden tables, Art Deco posters, banquette seating, a long bar with wooden stools, floor to ceiling subway tiles and a jaw dropping Art Nouveau ceiling.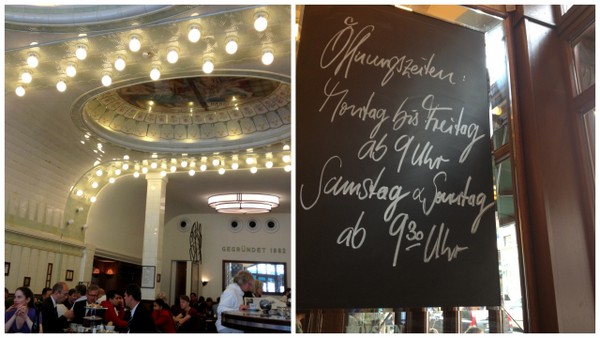 The menu features standard French fare such as hard boiled eggs, croissants, baguettes, jam, cheese, juice, Croque Madame, and Croque Monsieur. It also includes a few breakfast twists including a "Moroccan" version of French toast topped with roasted tomatoes, goat cheese and orange marmalade, an "American" breakfast that comes with a pancake, a fried egg, peanut butter, and syrup and the local "Hamburg" which consists of a piece of toast, crab salad, herring, smoked salmon, scrambled eggs with chives and a glass of Hamburg's local Holsten pilsner (a brewing company founded in 1879 in the city's Altona-Nord quarter).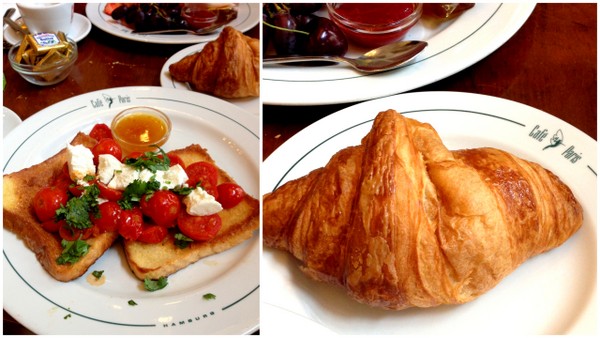 On my first visit, I tried the Moroccan and on the second visit, I opted for something a bit lighter (just some muesli and a hard boiled egg with green tea). I must note, I returned twice to Cafe Paris (out of three breakfasts) for another bite of their croissants. The baguette was nothing to write home about but their croissant was some of the freshest, butteriest, light viennoiserie that I have tasted outside of Paris.
I will post about my second breakfast at Mutterland in a follow up post- equally worth it.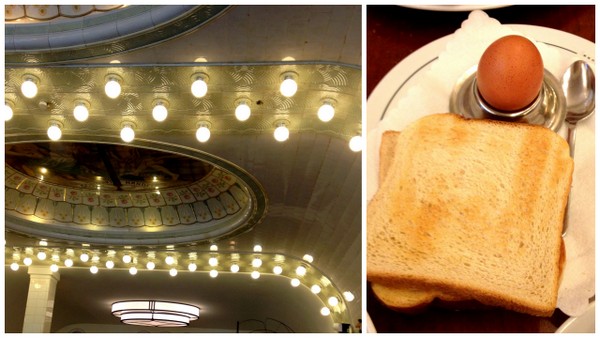 Other breakfasts worth a visit around the continent in addition to Cafe Paris in Hamburg, include Cafe Savoy in Prague, Cafe Schwazenberg in Vienna, Cafe de Flore in Paris, or the modern Cafe George in Amsterdam, close your eyes and let your senses observe the hum of a well oiled dining institution hard at work and churning out diner classics European style. If you have any other suggestions to add to this list of where to find a decent breakfast at a 'European diner', please share your suggestions in the comment section below.  I am always up for exploring new places that are worthy of "diner" status.
Cafe Paris, Rathausstraße 4, 20095 Hamburg