Posted by
sarah
on Apr 23, 2013 in
Art
,
Copenhagen
,
Design
|
0 comments
I've tried my best to cover as much of Copenhagen by foot as possible.  So far, I think I've done a decent job.  If you are scratching your head wondering why doesn't she bike? Isn't Copenhagen a biking city? Don't 1/3 of all Copenhageners ride a bike to work?  The answer is yes but I prefer to take in the city on my two feet.  While biking is a faster, more efficient option of getting from point A to point B, you miss what's going on.  The streetscape passes you by.  When you are biking, you are biking and have to pay attention to other bikers, cars and pedestrians.  This way, I take my time, pop in and out of places as it pleases me and really observe what is going on.
This weekend, I was craving an outing- something outside of the city but not too far.  I decided to pay the Louisiana Museum of Modern Art a visit to view their Pop Art exhibition which is on until June.
One (35 minute) train ride away and you find yourself in the small town of Humlebæk. The trip itself is quick and easy.  Once you step off the train, you feel like you are truly in the country- or in the forest (there are a lot of trees in the area).
We arrived just before lunch so eating was high on the priority list before we took in any Andy Warhol, Rauschenberg, or Roy Lichtenstein. The museum has a very nice cafe that serves sandwiches, coffee and tea, and pastries.  They also have a buffet but we were too early for that.
We settled on a vegetarian and salmon rugbrodsmadder (rye bread open face sandwich) for sustenance and grabbed a seat on the patio overlooking the museum's sculpture garden, the Øresund strait and Sweden.   It was a bright and sunny day without a cloud in the sky.
Sandwich #1 Terrine of root vegetables, cabbage, cream of carrot- yes there are mini potato chips on top of my sandwich (for extra crunch?)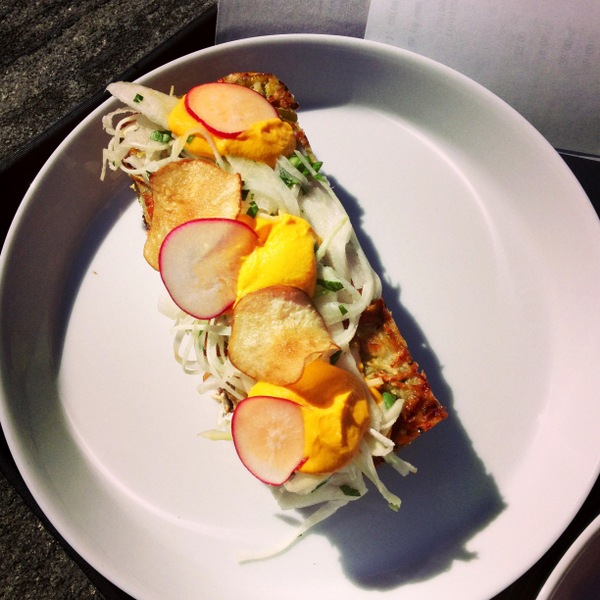 Sandwich #2 Smoked salmon from Daniel Letz, celery, pickles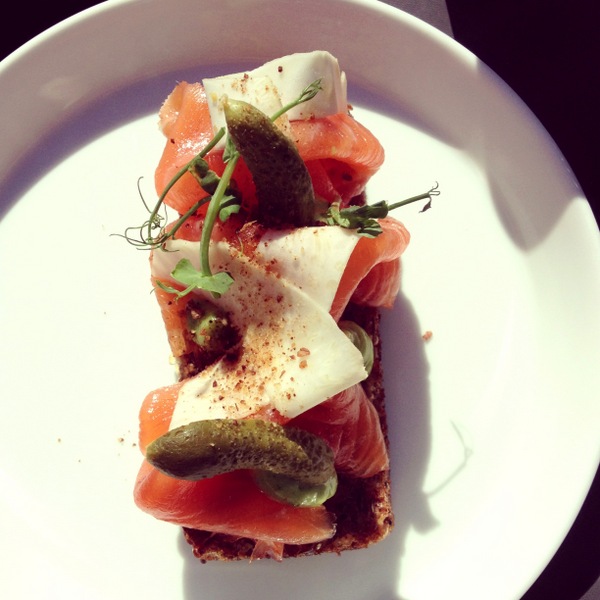 The patio of the Louisiana cafe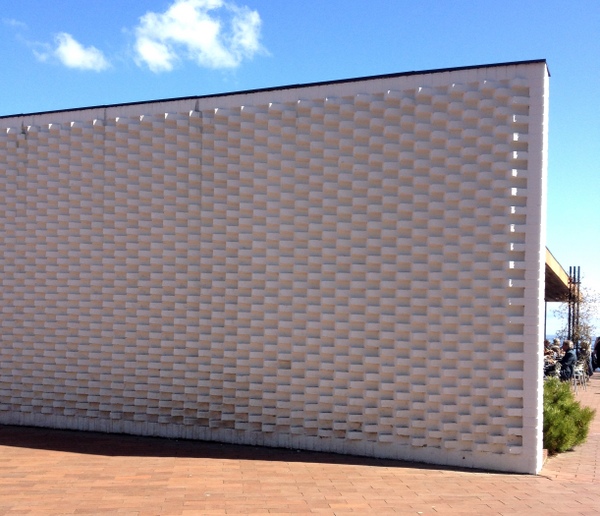 The sculpture garden and view of the water while we ate.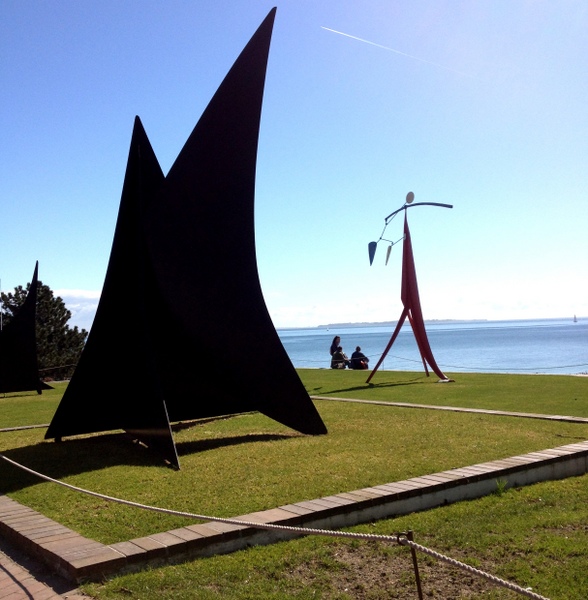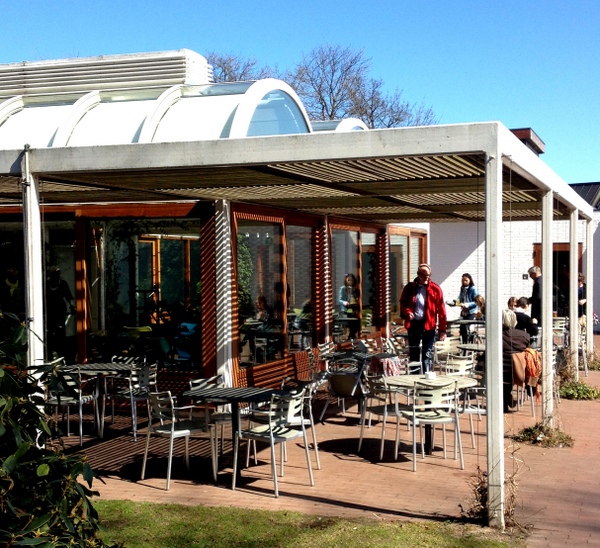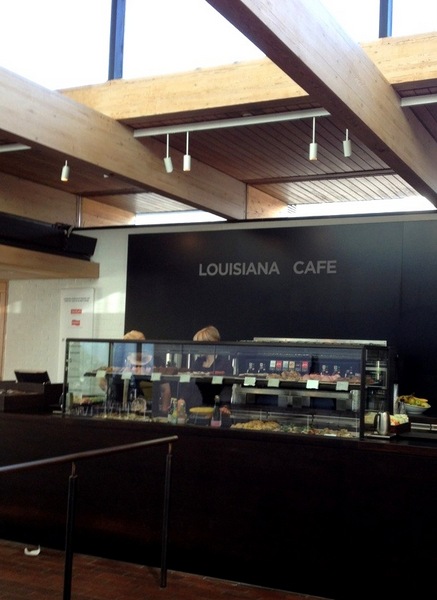 Apparently the Louisiana Museum has undergone 7 extensions and renovations- here is a look at two of their buildings from the park in the centre of the building.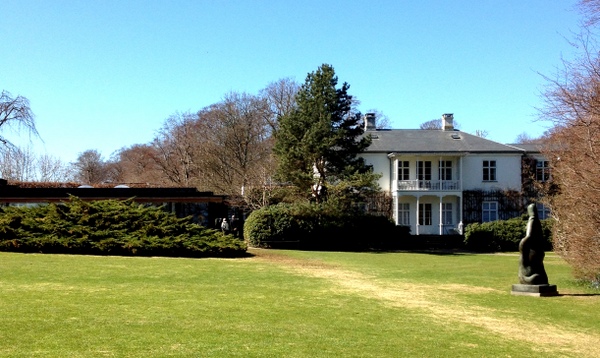 A bit of Pop Art- what a great exhibit.  I love seeing the works of Warhol, Lichtenstein, Hamilton, Eames, Panton and Sottsass.  Some of the pieces I recognized and have seen before at other modern art museums around Europe and others were new to me.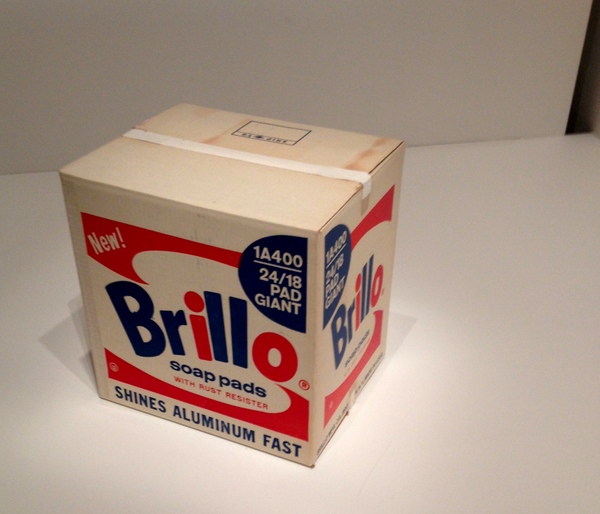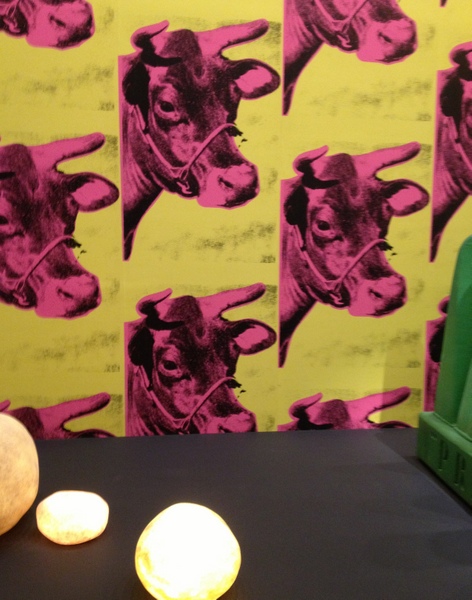 Particularly the work of Verner Panton- this was a cool piece. You entered an enclosed space that was outfitted with warm coloured lights and mirrors to give it the feel that the room was going on forever.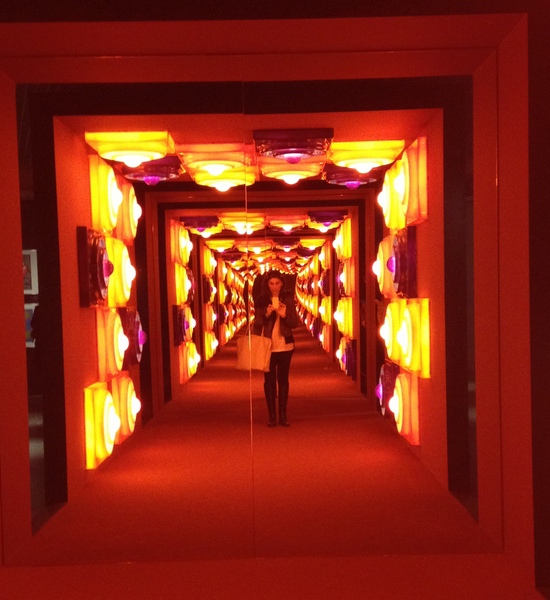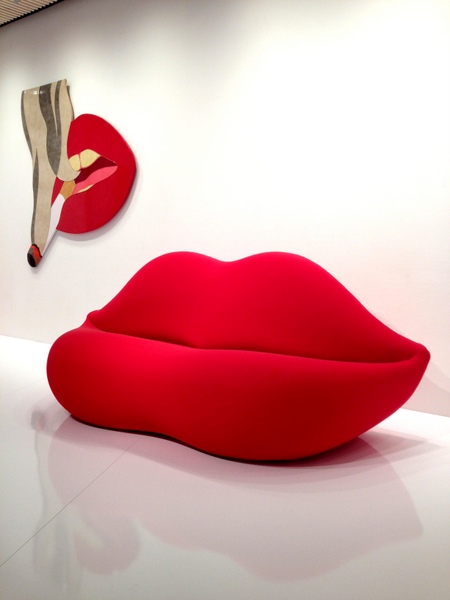 The museum itself is a stunning building (set of buildings).  The architects used a lot of wood, and glass so you feel like nature is around you at all times.  This is a picture of one of the long corridors that connect the buildings/exhibits.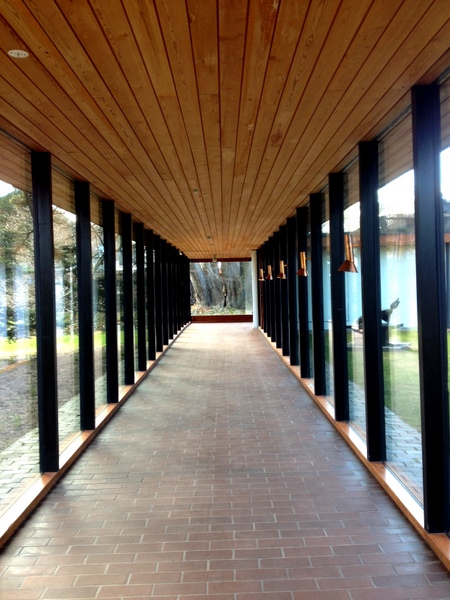 The art is not only inside the building. There is a sculpture park on the grounds of the Louisiana and when it is nice outside, like it was this past weekend, the grass is filled with people sunning themselves.  There were quite a number of kids attempting to roll down this hill without success.  Each attempt resulting in a vertical position.  It was fun to watch.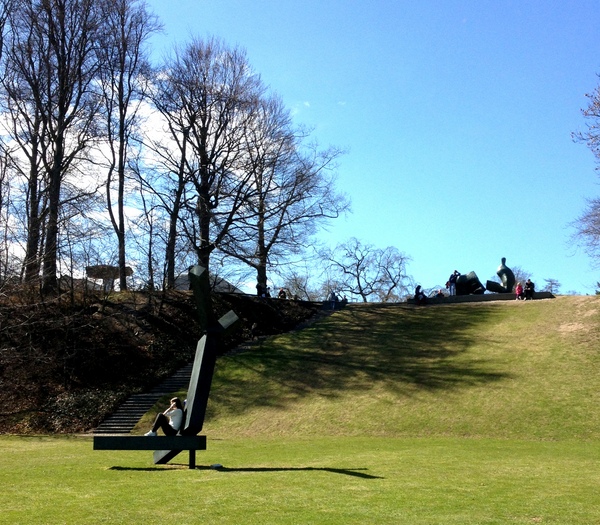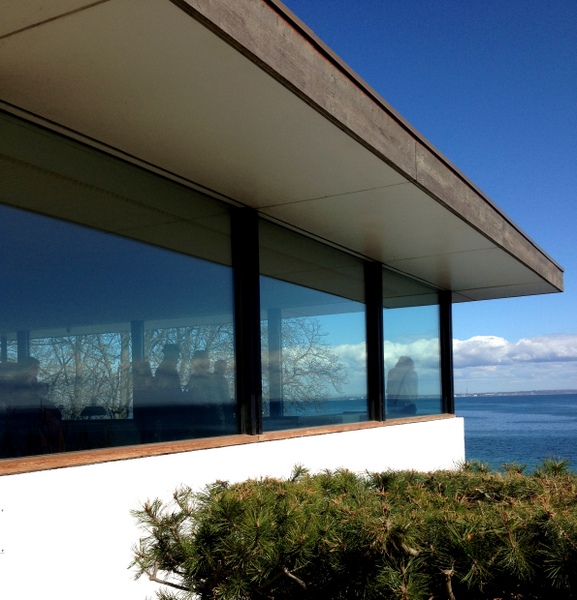 Across the water, you are looking at Sweden- I was amazed by how clear and blue the water is.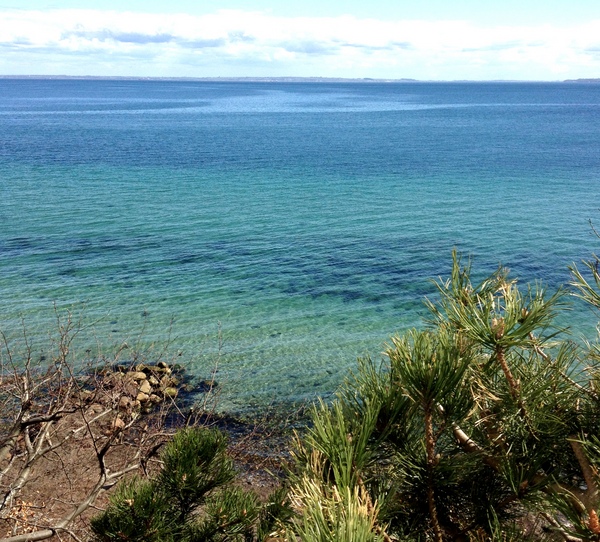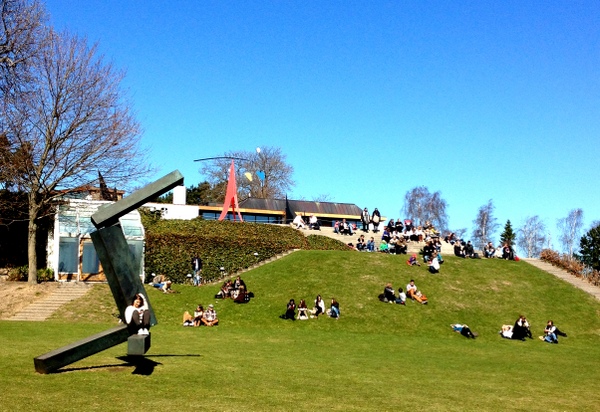 Before we called it a day, we headed down to the museum shop for a peak.  You can find plenty of Danish and Scandinavian design pieces as well as posters and a substantial collection of coffee table art and design books.
As we walked back to catch our train back to Copenhagen, we stopped by Brødsnedkeren, a great bakery that serves homemade waffle cones and ice cream.  We each got a cone for the train ride back.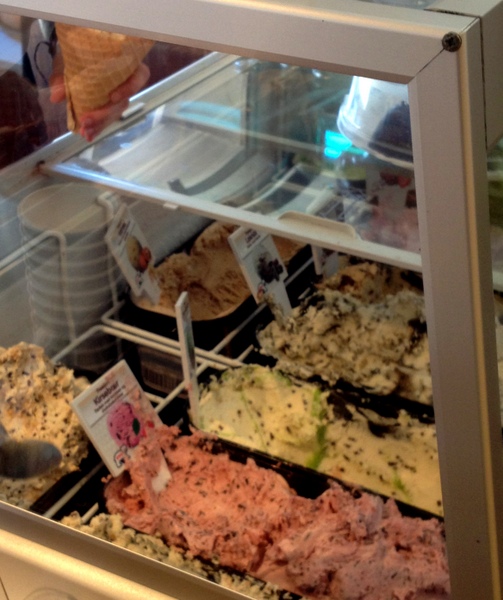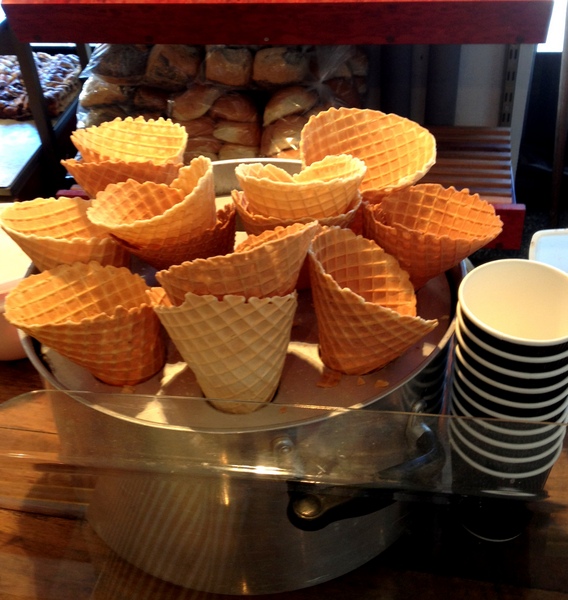 Starting the last week of April, my flat will be packed with visitors until the end of July.  I am sure I will be making a trip back to the Louisiana soon enough and look forward to my next visit.