Posted by
sarah
on Mar 5, 2013 in
Copenhagen
|
0 comments
It's been a while.  Every now and then I will be inspired to sign up for a cooking class and learn something new.  I meant to do take a class when I was still living in Prague but for some reason, I never connected with a class.  This time around, I made up my mind that if you want to learn about a new culture and new city, learn it via food.
I contacted Mia of CPH Good Food and signed up for one of her cooking classes.  The topic: How to make a mix of New Nordic and Traditional Danish dishes.  Sold!
We made our way through four dishes, one breakfast porridge and three lunch dishes.
Here is a look at what we made:
Okay, I started with dessert- it was a traditional Danish apple trifle with lots of layers (including a crunchy butter cookie layer) and a cherry syrup.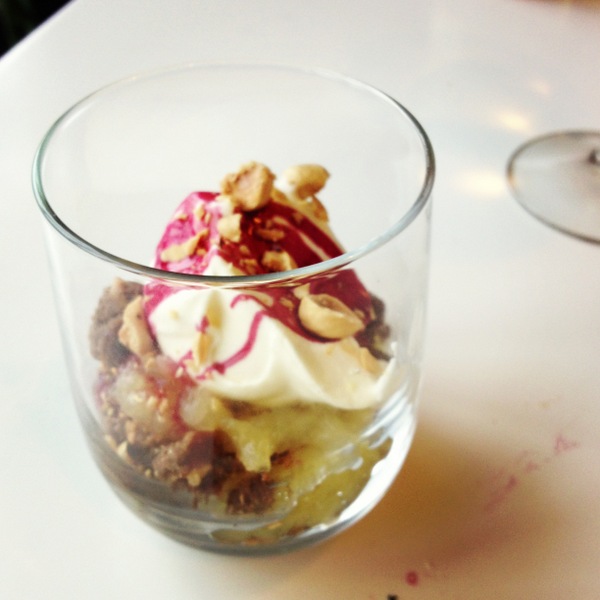 Residence at the University of Copenhagen- why didn't my university look like this?  Mia's class took place in one of the dorm kitchens.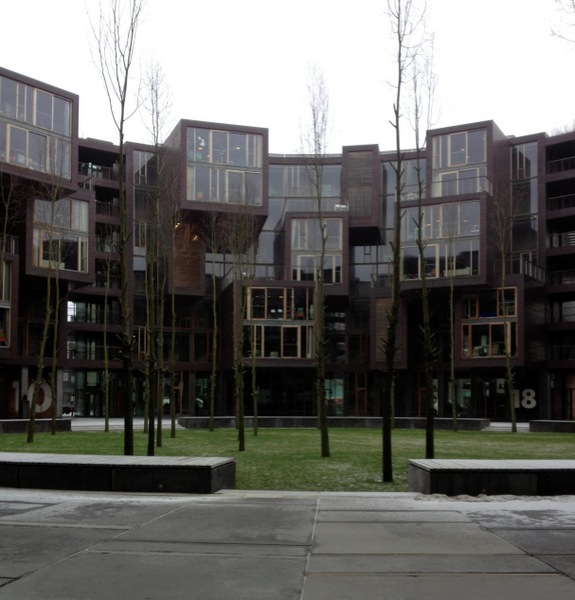 Again- my residence looked nothing like this in university.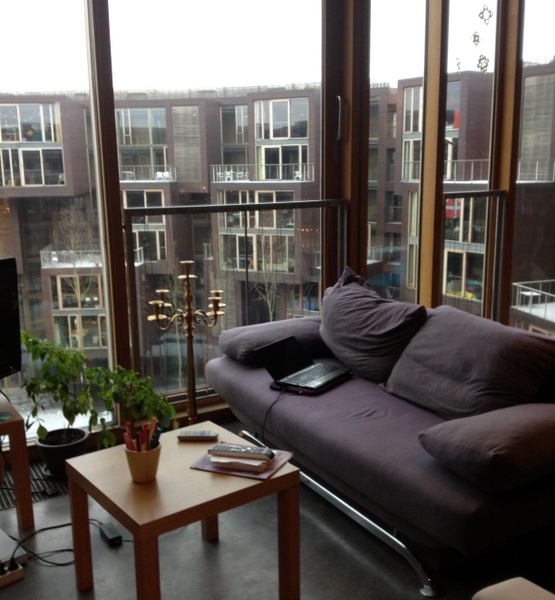 The dorm kitchen/cooking/dining area.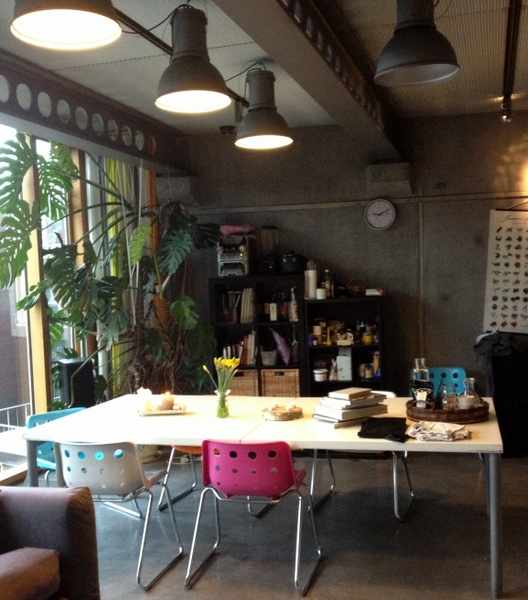 Mia- starting out the class behind four, count them four, dorm refrigerators!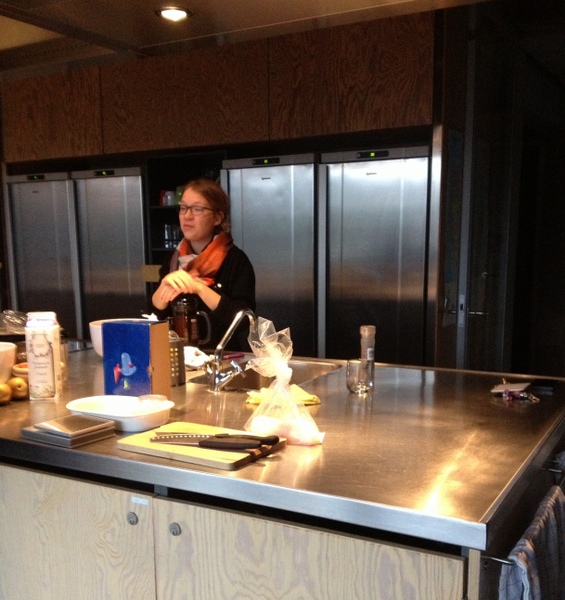 First, we learned how to cure cod- similar to Chilean ceviche.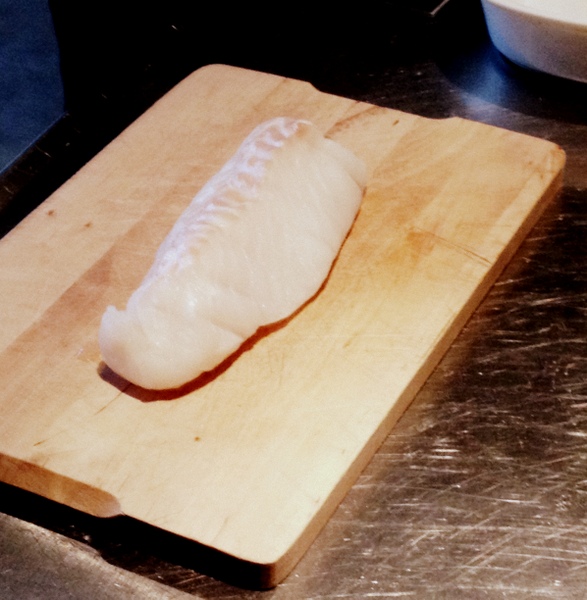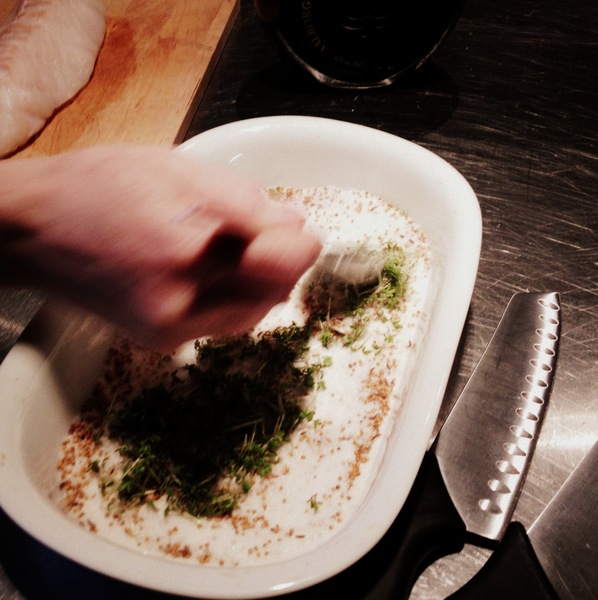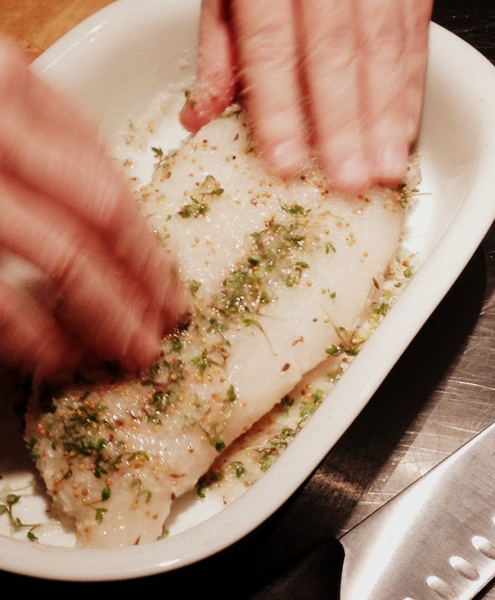 Next up our breakfast porridge with a liquorice butter.  Liquorice is used a lot in Danish cooking. It's very popular here.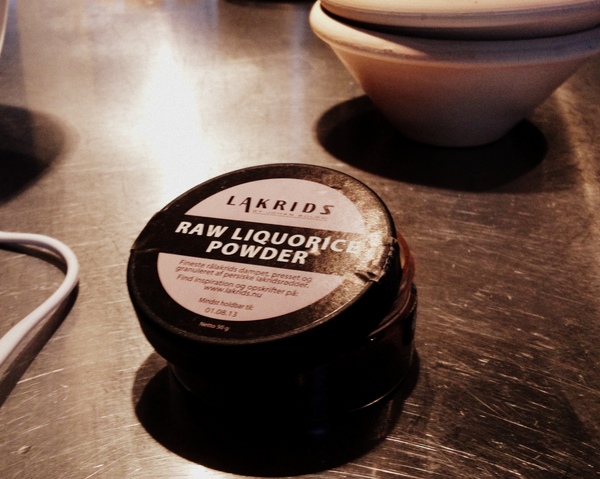 We were allowed to take tea breaks during the class.  Mia got her tea from Tante-T in Copenhagen.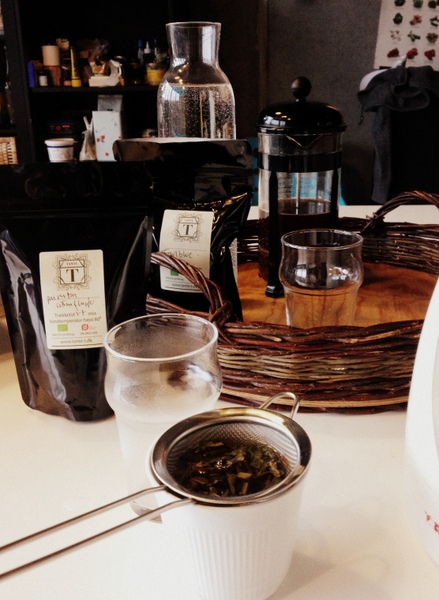 The velvety barley porridge with pears, hazelnuts and fluffy licorice butter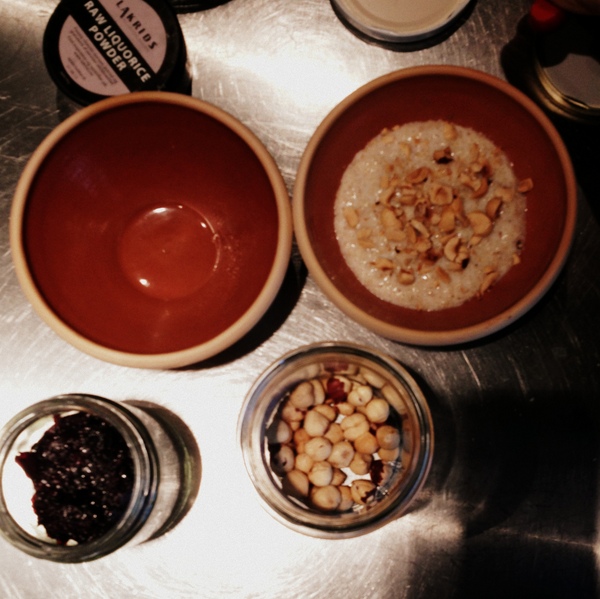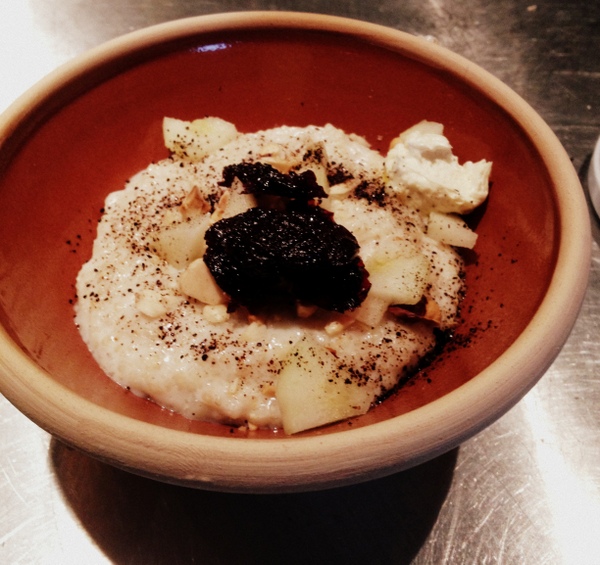 While we ate our breakfast porridge, we browsed through some of Mia's favourite Nordic/Danish cookbooks – ahem- Noma-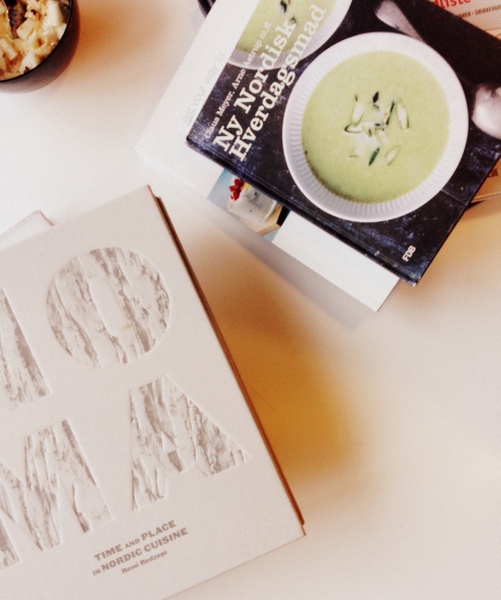 Next up- we made our own mayonnaise from scratch which was pretty cool and a first for me. Home made mayo tastes so much better and it was really easy. You wonder what is in that "other" store bought stuff…..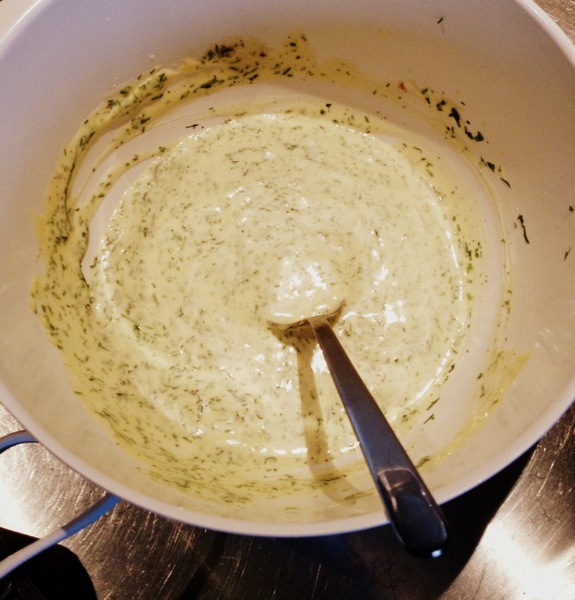 And we made our own rye bread with nuts and beer
Here is what our loaf looked like, served on a nice bread board.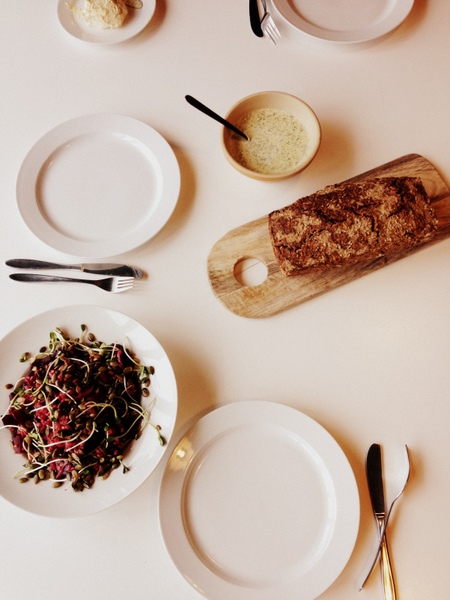 Tables are not complete with out multiple candles and flowers.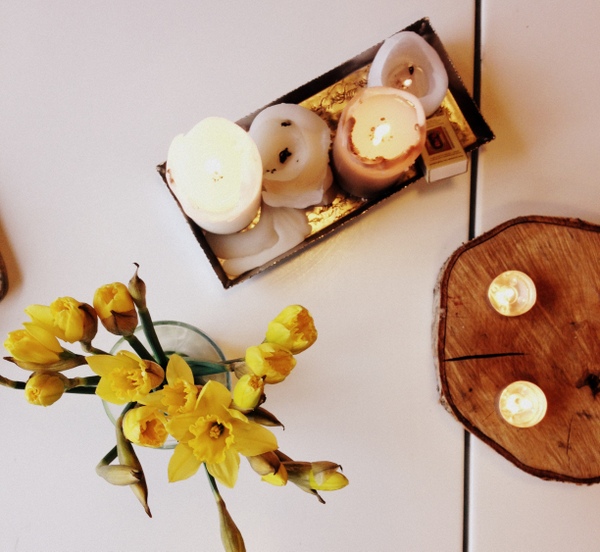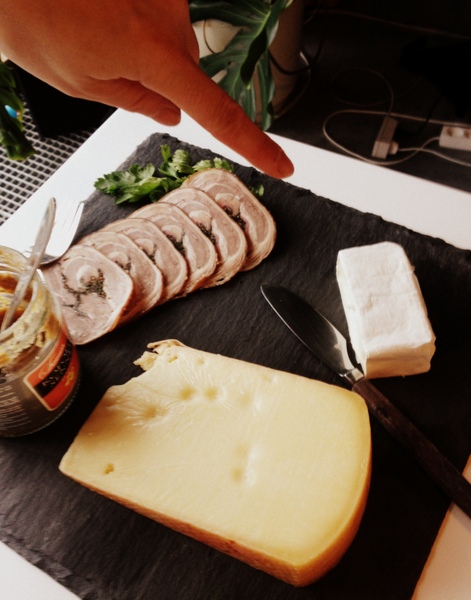 (picture above-) Mia bought us a nice treat to go with our bread.  True to the open face sandwich tradition, you slice a piece of rye bread, spread some butter on your slice and top it with meat or cheese and some mustard.  We got to taste test lamb sausage, a goat brie cheese and another Danish cheese.  The lamb and goat brie are from 360 Nord, a business who sources ingredients from farmers around Denmark- it is located in Torvehallerne market.  I paid 360 Nord a visit, shortly after the class ended so I could eat the lamb sausage and goat brie in my house!  Incredible!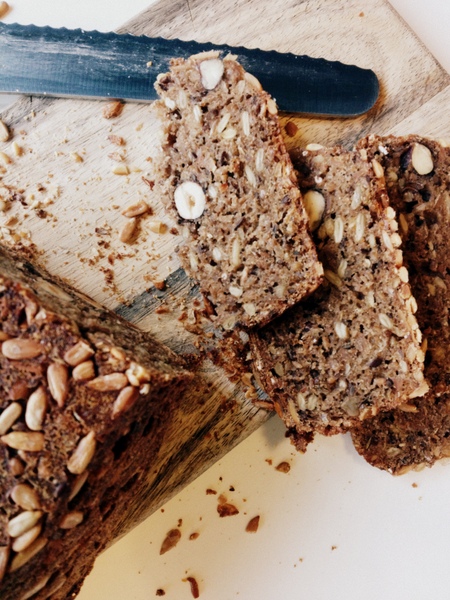 This was an interesting salad we made:  Pearl rye salad with baked beetroot, pickled onions and dried black currants.  The flavour went really well with our rye bread, cured fish, meat and cheese.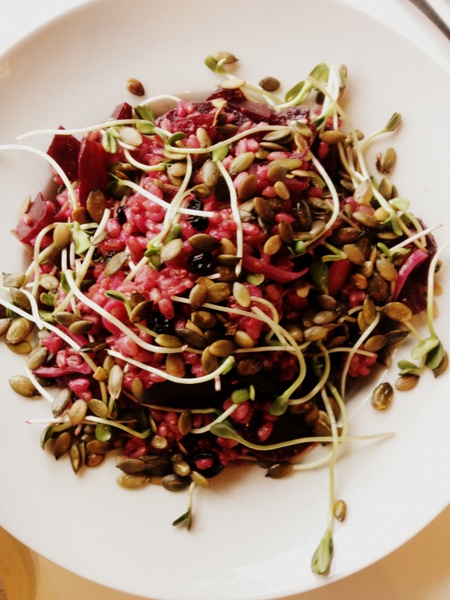 The way to assemble an open faced sandwich with our cured cod and homemade mayonnaise.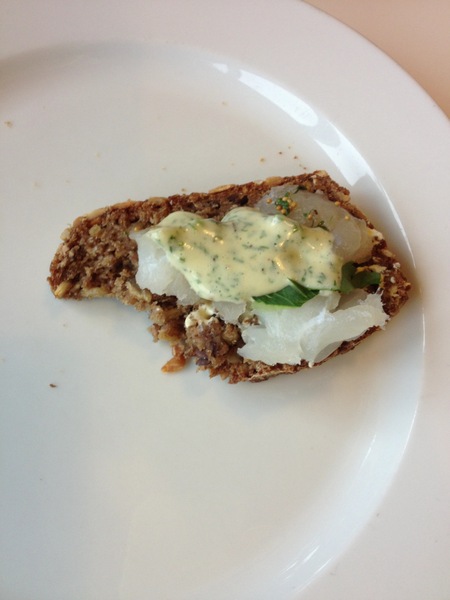 I can't wait to sign up to another class with Mia.  I learned so much over the five hours we spent cooking together.  Particularly as someone living in Copenhagen, the ability to talk about ingredients, brands and producers was super helpful in terms of receiving guidance/pointers in the grocery store when you can't always read labels.
This was a very filling lunch that I look forward to making on my own.  I have already replicated the salad.  I think I am going to try the bread this week.