Posted by
sarah
on Feb 15, 2013 in
Copenhagen
|
0 comments
Date Night #7- lucky number seven!
Last Saturday, my husband and I turned date night into double date night with friends at Restaurant Cofoco (part of the Cofoco group).
Before I delve into the meal, I want to mention that I think I am starting to get the hang of New Nordic dining and I haven't even scratched the surface of options or even attempted to make a reservation (three months out) at Noma!
When I read a menu in this city, I typically choose two or three dishes not really knowing what the dish will look like (dining is always a form of entertainment and an experience), nor what it will taste like (I am often not familiar with all the ingredients in a dish).
All I know, is I have yet to have a bad meal in Copenhagen, the chefs are creative and playful with food, the quality of ingredients is excellent and I am open to trying anything once- minus bugs- I am not ready for bugs yet.
At Restaurant Cofoco, between the four of us, I think we had the entire menu, or just about the entire menu.  The menu contains a mix of smaller dishes and it is recommend you select three or four courses for dinner.
Items tasted:
Appetizers: Salted nuts tossed with dried pimento, beef tartar with cream, sour malt and beetroot and a creamy mussel soup with scallops, drained cottage cheese and chamomile.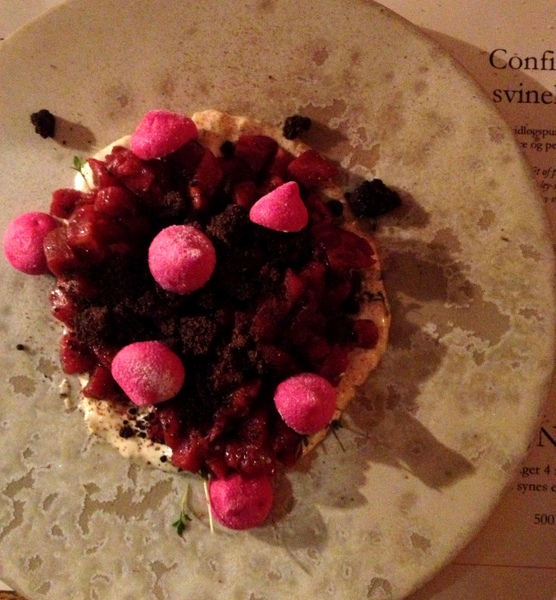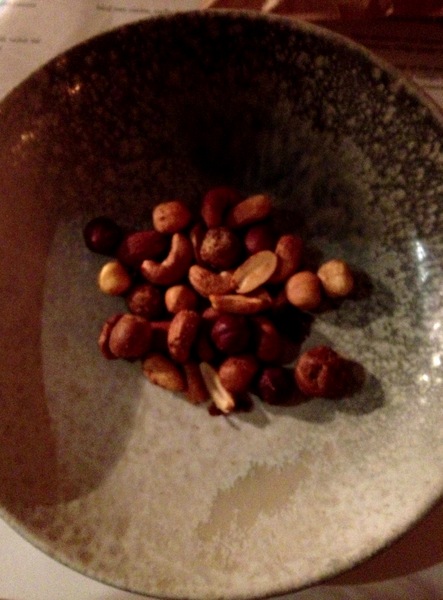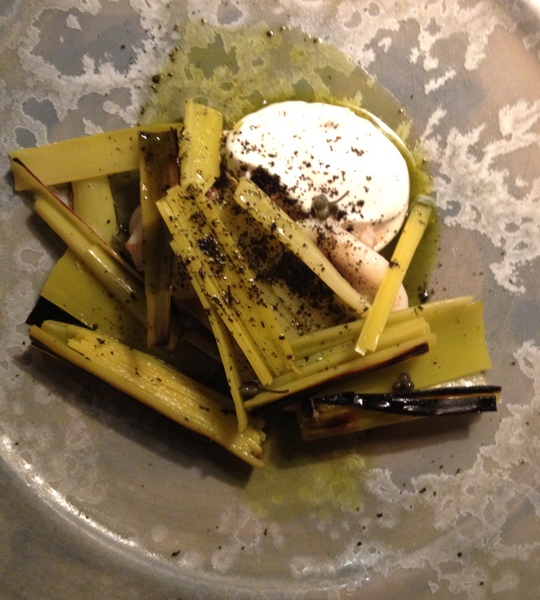 Next up a variety of main dishes which included: Chicken nuggets with a coarse grain mustard mayo and asparagus potato fries tossed in onion powder. two people tried the Danish squid with cream cheese and leaks as well as a confit of pork cheeks with warm salad and red sorrel.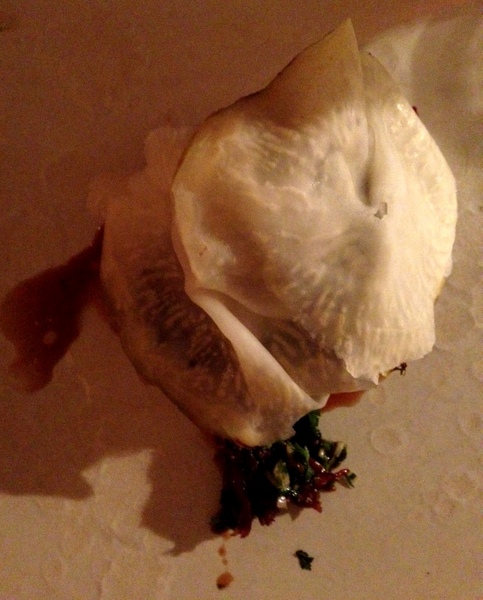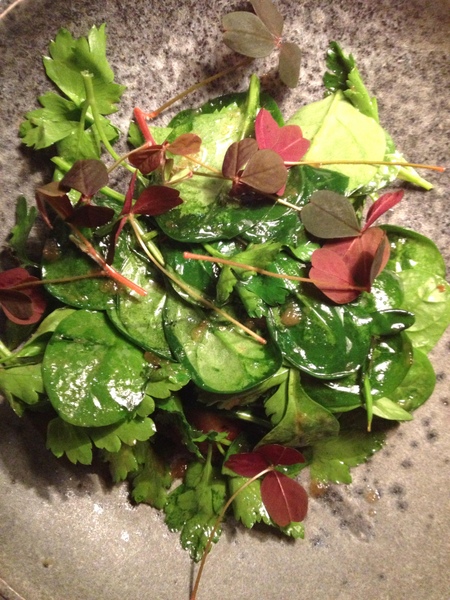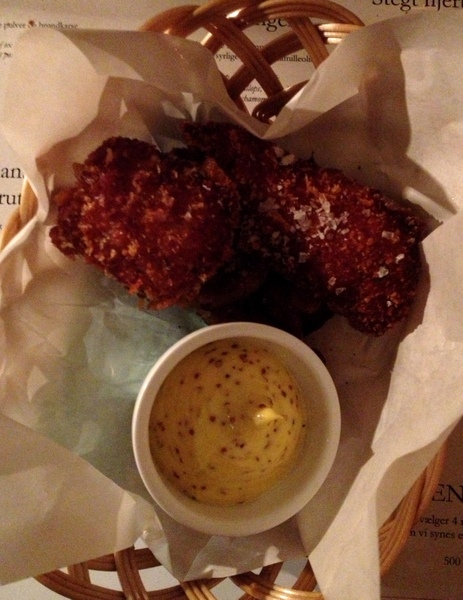 Finally dessert– Coconut ice cream with cookies and coconut flakes (amazing!) and a Danish cheese plate with a homemade muesli cracker.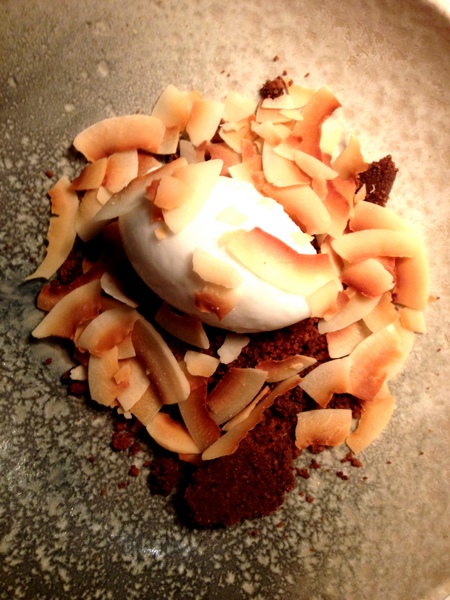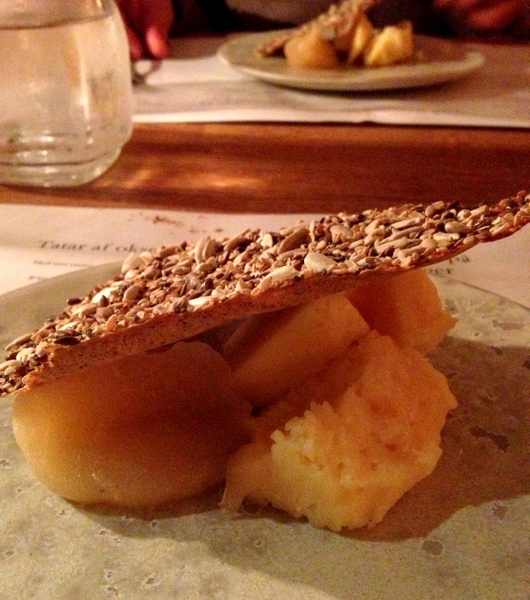 This is quite ironic- for me the stand out dish in the entire meal was the chicken fingers.  How juvenile, right?  These chicken fingers were crispy beyond belief and finished with a beautiful flaked salt.  The flaked salt made the dish.  The chicken meat was tender, not dried out and the grainy mustard mayo dipping sauce and asparagus potato fries offered a tangy and salty complement- simply incredible.  I can't remember the last time I ate a chicken finger- I must have been in junior high- but these put all previous chicken fingers to shame.  Plus, they were fun to eat.
I hope you can see from the photos that all the food served had a playful element to the presentation.  Tell me, can you identify what is in the pink looking dish above?  That's the fun. You have a sense of what the ingredients are but have no idea how they will be presented to you.  Dining in Copenhagen is anything but literal
Looking forward to the next restaurant which will be Bistro Boheme (we're going French).
Restaurant Cofoco – Abel Cathrines Gade 7 Copenhagen