Posted by
sarah
on Feb 12, 2013 in
Design
,
Food
,
Stockholm
|
0 comments
The good thing about date night is that it is portable. So when date night falls on a travel weekend, date night shifts from Copenhagen to a new city.
My husband and I dined at Rakultur, one of Stockholm's best sushi restaurant (so said a friend of a friend (who is a chef in the city)).
This was my first and only sushi meal in Stockholm so I can't comment on "bests" but it was serious sushi and up there in my all time sushi meals.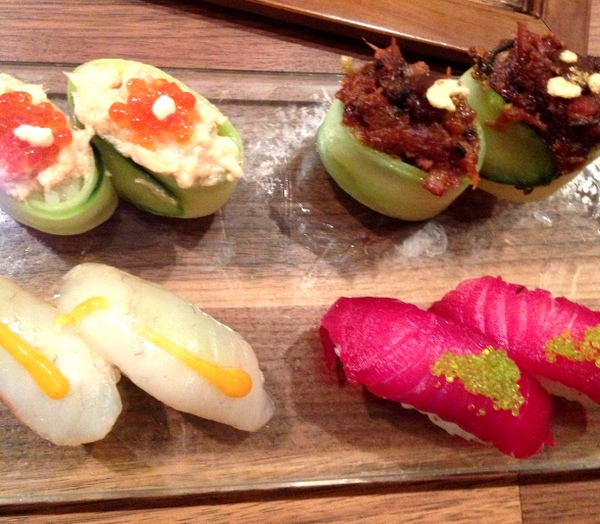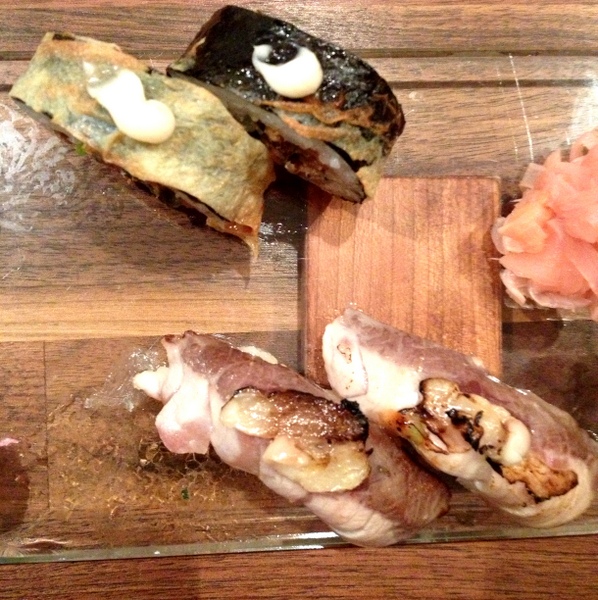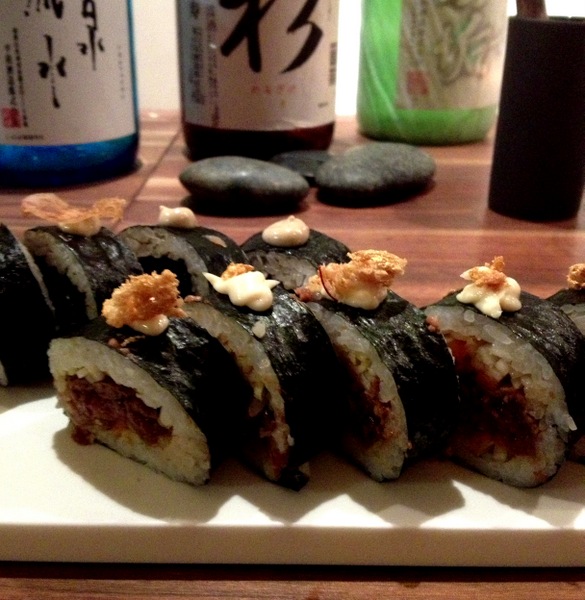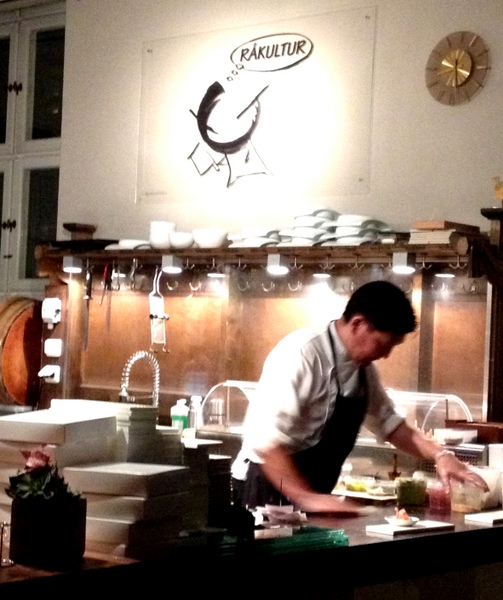 Rakultur does not take reservations (I called ahead), and when we showed up we were faced with a 40 minute wait.  Our luck, two large parties just arrived before us. Fortunately 40 minutes turned into 15 when the waitress cleared two seats at the bar.  Perfect for us.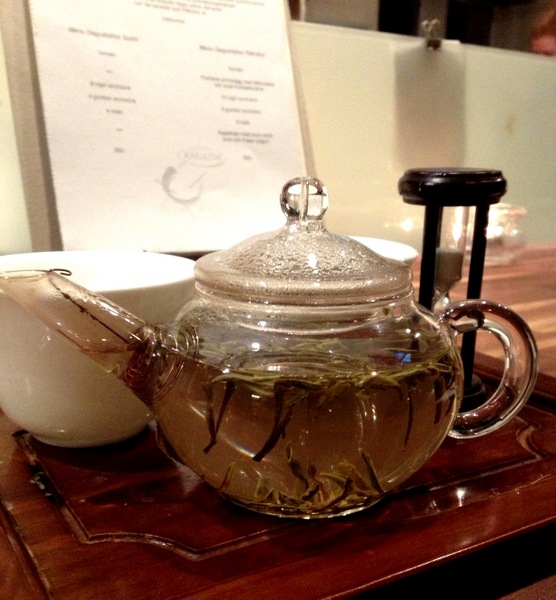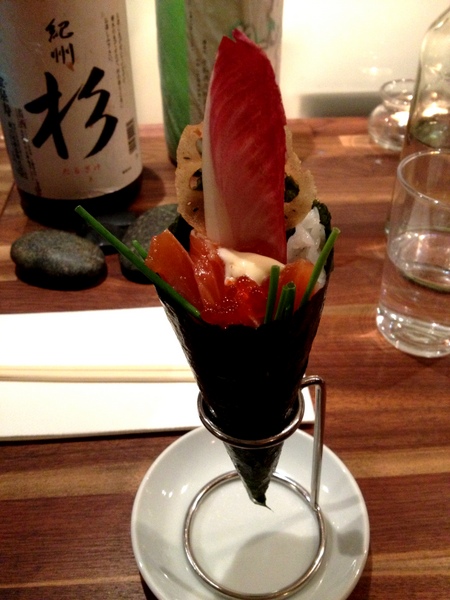 The kitchen closes at 9:30 so we were informed if we wanted a chef's table tasting menu, to hurry up and place the order.  I wasn't starving so I ordered two rolls (a saute autumn mushroom roll and a Korean steak tartar and pear salad roll).  My husband decided on the small chef's table tasting menu which included a roll that pays tribute to Momofuku in New York – the pork knuckle roll- in addition to several other artful rolls.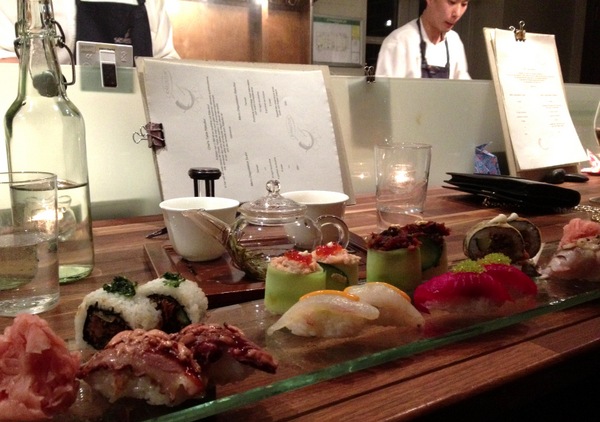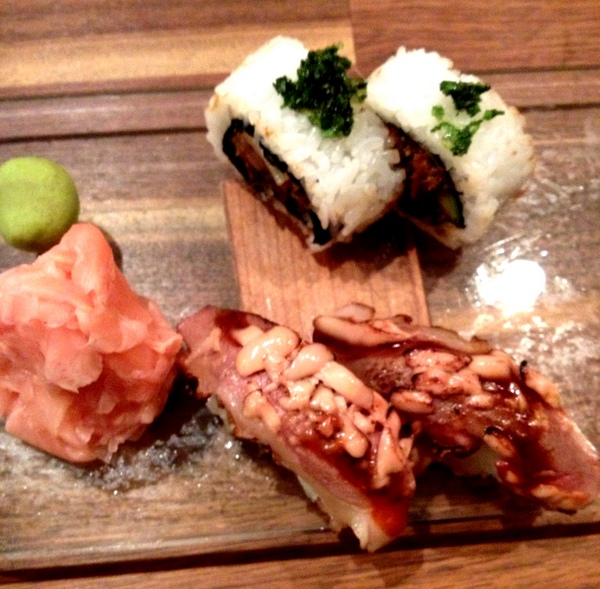 On the menu, I noticed Rakultur even had a selection of sushi made from Scandinavian fish, which I thought was neat.  This is not a "California roll or spicy tuna" type sushi restaurant.  Here you get creative ingredient combinations and simple, clean, delicately presented sushi.  I appreciated the little added touches sprinkled on top of some of the rolls or the bottle of soy sauce with a paint brush to lightly dab and brush soy to your fish.
For some reason, while I was sitting at the chef's table, I thought of the documentary Jiro Dreams of Sushi, if you've seen it.  The dining experience was not as formal as Jiro but there was some serious sushi design work and assemblage going on behind the glass separating us from the three chefs.
We left very full and very satisfied.  Highly recommended.
Restaurant Råkultur- Kungstensgatan 2 114 25 Stockholm
Telephone: 08-696 23 25