I am back from Meet the Blogger Stockholm.  It was a terrific weekend and I look forward to going through all my pictures and recap of what was seen, said and eaten in future blog posts on Lamb411.
Notable experience: I had a tremendous dinner at one of Stockholm's best sushi restaurants called Rakultur (no reservations and we were assured our wait would be at least 40 minutes).  Thankfully we only had to wait about 10 before we were seated at the chef's table.  The chef's table reminded me of the documentary, Jiro Dreams of Sushi– great flick if you haven't seen it.
Rakultur is apparently known as the sushi restaurant where chefs eat at.  (According to Phaidon's book– and a friend of a friend's recommendation)
But enough about Stockholm.
For Tuesday, I leave you with a trio of baked goods from a Danish bakery in Copenhagen called Gorm.
I am continuously asked about Danish danishes from my Canadian friends and family.  I thought that in response, and the fact that I am an avid bakery taste tester, I would try to snap a couple shots and show you what's in store.
These three beauties came from a bakery called Gorm on Store Kongensgade.   No website that I can find.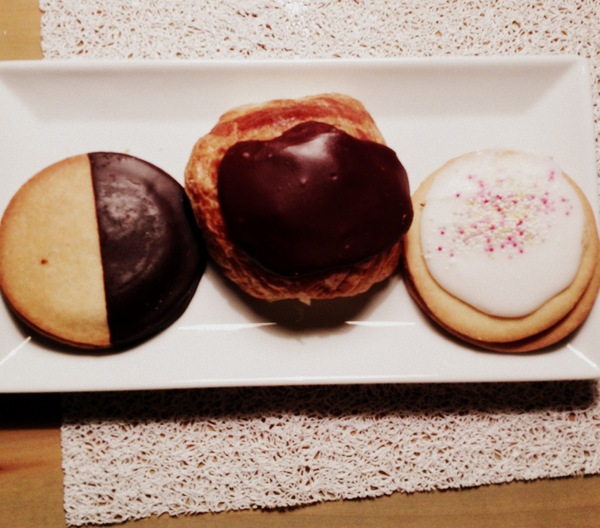 LEFT: Cookie filled and dipped with dark chocolate
MIDDLE: Chocolate covered danish
RIGHT: Cookie with raspberry jam in the middle topped with white icing