Posted by
sarah
on Jan 17, 2013 in
Copenhagen
|
0 comments
It is cold here.  When people ask me where I am from and I respond Canada, they look at me and say, "Oh, so you're used to the cold!" or "It's really cold in Canada."  To be honest with you, global warming has messed up Canadian weather. I remember when I was young, I used to have snow days.  School would be canceled because there was so much snow on the ground.
Toronto is lucky to have a couple major snow falls. Just last week, my friends and family were informing me that it was above 10 degrees in January.  That is pretty warm for winter if you ask me.  Now, over here in Copenhagen, it says minus 1 on my weather iPhone app, but I know it's lying.  Even when the app says minus three, it is still lying to me.
Walk outside on the sidewalk in Copenhagen at around 4pm and it feels like -15.  I sense the temperature is approaching the point where your nose starts to freeze off.  For example, when I do my daily 20 minute walk to and from the yoga studio, by the time I get indoors, my fingers are numb and frozen.  I wear a full length coat down to my ankles, multiple layers, a scarf, a hat and big Sorrel boots (not the most attractive, but protective against the elements).  Dressing like that means it is not minus 1 outside.
Despite the cold weather, date night does not suffer.  In fact, it means exploring restaurants closer to home where you don't have to walk or travel that far!  Last Friday we went to a spot called Madklubben Bistro De Luxe.  I love that restaurant name. It's a mouthful of awesomeness.
Madklubben Bistro De Luxe is one of six restaurants which is part of a group.  The menu changes quite often.  This restaurant is adorable.  From the street, you descend down a few steps (with candles lit down the steps) into the restaurant.
(Appetizer: Smoked salmon with smoked cheese, greens and crunchy hazelnuts)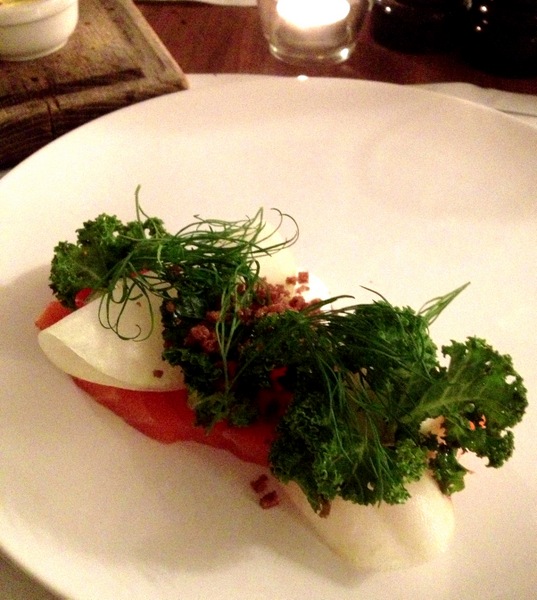 The restaurant is deceivingly large.  From the entrance, you have a dining space to your left, a long hallway of tables in front of you that extends back into a second room and then a smaller room behind the bar on the right.  On Friday night at 8:30pm, guess what? Madklubben Bistro De Luxe was packed with hungry diners sitting at candle lit tables and slicing (devouring) through the board of fresh rye bread and butter served at the start.
What we tried:
(Main: Fried duck breast with pickled fennel and artichokes)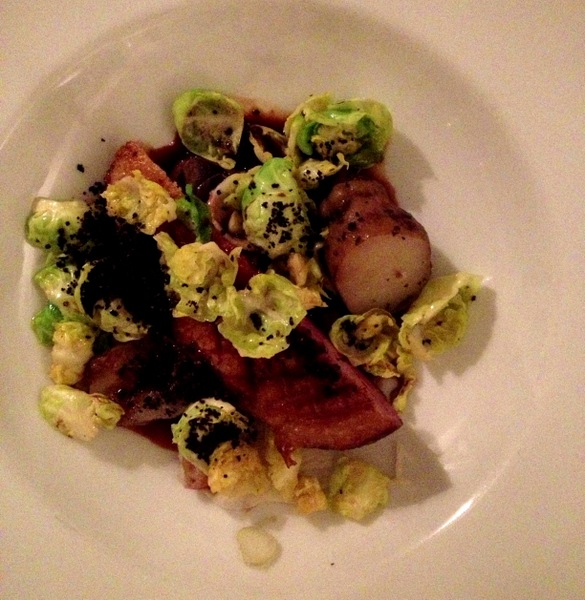 (Main: Cauliflower three ways with a side of cabbage with walnuts and prunes)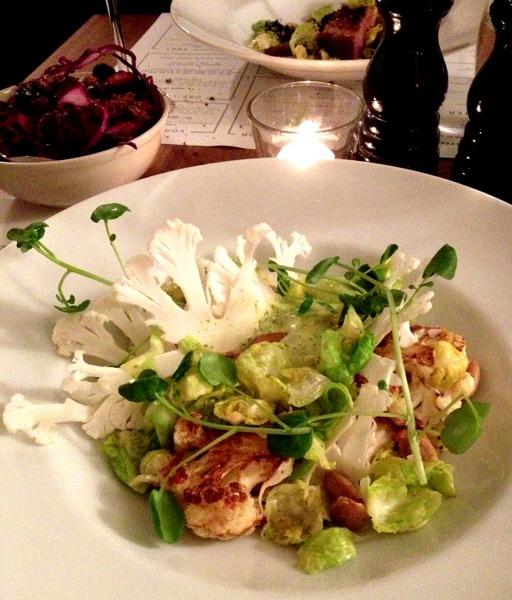 Menu shot!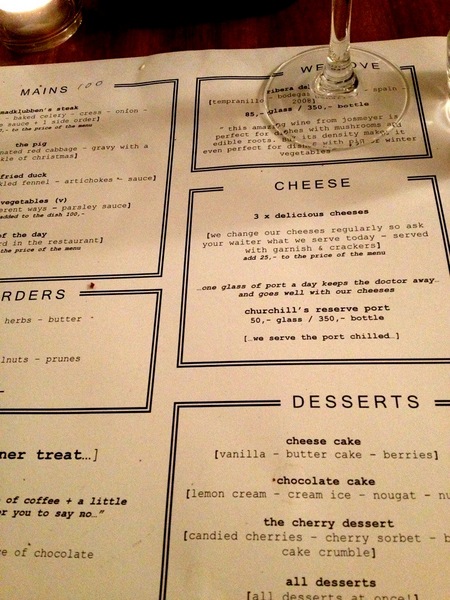 (Just entering the restaurant- a look at the walk up bar)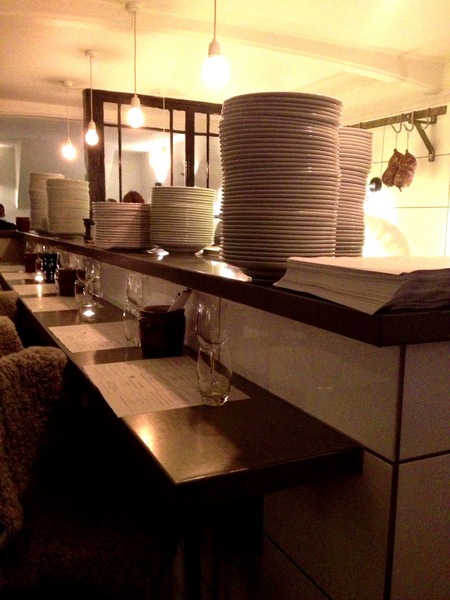 Appetizer: Charcuterie plate of meat- not sure exactly what each item was but my husband really enjoyed it.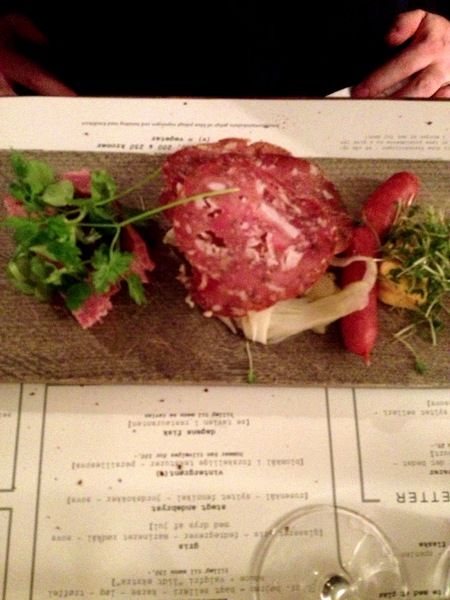 With two courses each we were stuffed.  We wanted to sample a dessert but sadly, there was no more room, so we lived vicariously through our neighbours who were polishing off a bottle of red wine and dipping into their last course.
We will have to return one night for a dessert, seeing how it is only down the street from our apartment.  As we left the restaurant, I did think the pace of dinner was a bit rushed. We were in and out in an hour, but then again, does dinner always need to be a two or three hour affair?  We came, we ordered, we ate, and we were satisfied by their efficiency.  I would go back.
The other bonus, Madklubben Bistro De Luxe is not ridiculously priced (in CND or USD).  It is a bit friendlier on the exchange rate/wallet in comparison to many of the 375-500DKK prix fixe meals in the city (roughly translates to $65-$85 per person).
Madklubben Bistro De Luxe- Store Kongensgade 66, 1264 Copenhagen +45 33 32 32 34
Reservations recommended!
Date Night this week will in fact be a double date night + 1.  I will be visiting two restaurants this weekend as I have a guest in town. I will be dining at Host and Kjobenhavn. More on both next week.
Host is currently the design darling-
See who is talking about Host:
1. Apartment Therapy: The Nordic Table
2. Contemporary Standard: Host Restaurant in Copenhagen
3. Scandinavian Deko: Norm + Menu + Cofoco = Host
4. Remodelista: The Viking Table Re-imagined
5. Dezeen: Host By Norm Architects and Menu