Posted by
sarah
on Jan 8, 2013 in
London
|
0 comments
Eating London- I was so impressed by the diversity of food in London on my most recent visit.  It is a city where you truly can find a little bit of everything.  I made a point of visiting several food markets to experience the range of cuisine.
Here were some of my favourite stops.
01 Borough Market– I stopped by the famed, Borough Market on New Years Eve day for some dinner party groceries.   Not all the stalls were present but I still enjoyed perusing and sampling the fare.  This is a great market for a quick snack, lunch or full meal.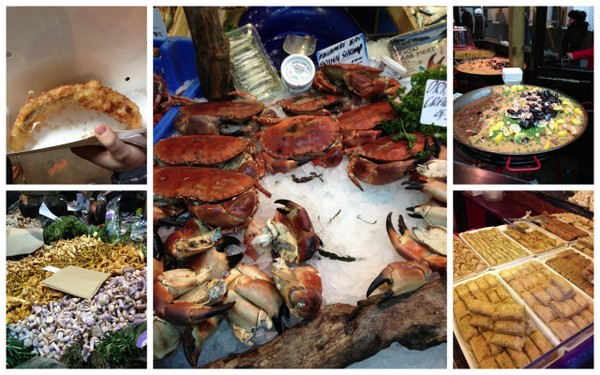 02 Brixton Market  Have you heard of this place?  It was a new find for me thanks to my friends who I was staying with.  Brixton market is basically two separate enclosed buildings that offers an incredibly diverse food spread both in shop format and stall format.  For dinner, we wandered both sections of the market and settled on the Bukowski Charcol Grill for a meat filled dinner.  Pre-dinner we stopped at the taco stand for a quick taco.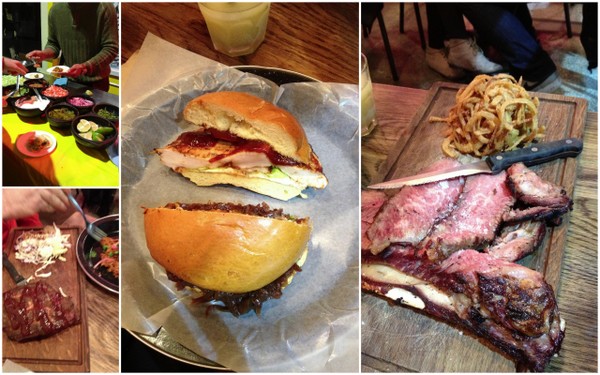 03 A scone and porridge at the Albion – Mind the stereotypes of British cuisine- What trip to London is complete without a scone and some porridge?  I had mine at the Albion in Shoreditch.  This has to be one of my favourite restaurant interiors for breakfast.  It is set on the ground floor of the Boundary building, a Victorian warehouse that has been fully converted to a mixed use property.  The restaurant is decorated with cool industrial lighting fixtures, old wood floors, white subway tiles that line the exposed kitchen and lots of natural light pouring into the room thanks to the abundance of windows that line the building. While you are waiting in line for your table like we did, it is fun to watch all the chefs/sous chefs and bakers busy at work cooking up dishes. The other great thing about this spot is that the Albion is part food store, part bakery and part restaurant.  So you can eat, shop, sample and eat some more.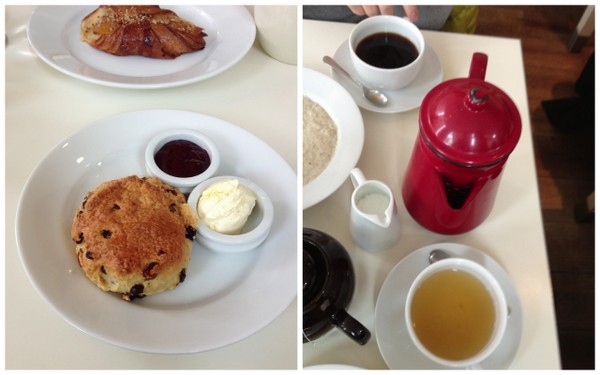 04 Brick Lane Food Stalls-  Brick Lane, the hub of all delicious Indian and Pakistani food.  On a recent visit and wander down Brick Lane, we discovered two separate buildings with tons of food stalls.  I can't begin to count how many incredible smelling food stalls were housed in this place.  Curries, wraps, dumplings, noodles, rices, sauces, spices, meats and juices.  This was a mini UN of food.  I am not sure if the stalls are present on Brick Lane as a weekly occurrence or whether it was something special over the holidays-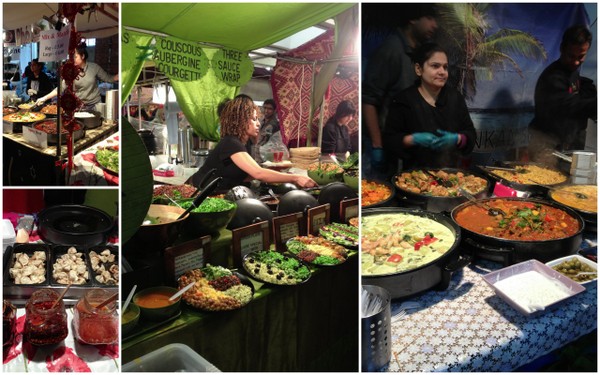 Visiting these food stalls and markets reminded me how important food is as a medium to bring people together and share in other cultures.  There were people from all different backgrounds, countries, ages and demographic backgrounds, eating and socializing together.
Cities should be proud of their diverse populations and culturally diverse food markets/stalls seems to be an excellent way to expose/educate and promote acceptance of different cultures that co-habitate and co-exist in a society.   City planners and community leaders, take note.