Posted by
sarah
on Oct 22, 2012 in
Books
,
Food
|
2 comments
There are a lot of Libras and Virgos in mine and my husband's families.  Between September 10th and October 21st there are seven birthdays that I can think of off the top of my head.  That is a lot of birthday cake to eat in the span of five weeks.  Could you imagine eating seven birthday cakes in less than one month? That is at least a cake a week and sometimes two per week.
Since moving abroad, we only get to eat "virtual" cake with our family members who celebrate in September and October- not a bad thing on the waist line- but of course it doesn't beat the real thing!
This year, it turns out that my husband and I were out of the city travelling over both of our birthdays so no one got to bake or eat a "proper" birthday cake.  To rectify this birthday "injustice", we made a belated birthday cake and celebrated with a few friends in Prague.
I set out to make a chocolate buttercream.  I went to the grocery store to find the appropriate baking chocolate but whatever I purchased was not what I thought it was and when I tried to make the chocolate buttercream the day before, it did not taste right, so I threw it out and started again.
Fortunately I had a bag of white chocolate chips sitting in my baking drawer on hand from an earlier out-of-Prague adventure that I've been meaning to use up.  I consulted my trusty "More from Magnolia" cookbook and decided to try Magnolia Bakery's white chocolate buttercream frosting recipe which I paired with the vanilla butter cake recipe in Amy Atlas' "Sweet Designs" book.
Mix-mix-the Amy Atlas vanilla butter cake was simple, quick and a delight to work with. Love this cake, it is my new go to vanilla cake recipe!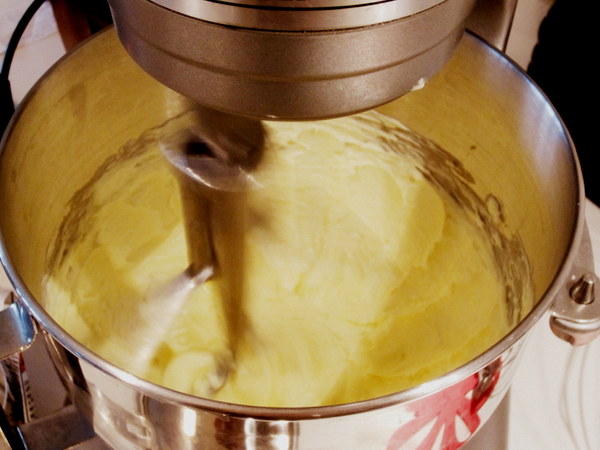 30 minutes later, I had two beautiful 8″ cakes cooling on the wire rack making my kitchen smell amazing.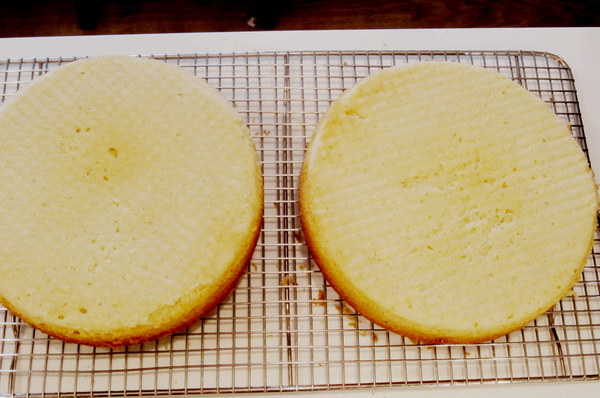 Next, the white chocolate buttercream.  I ran out of vanilla (liquid form) so I used vanilla bean paste instead which worked out quite well.  The bottle in the picture below is my LAST bottle of vanilla in Prague, so I have to reserve it for extra special baking going forward, or find a way to order Neilsen Massey online!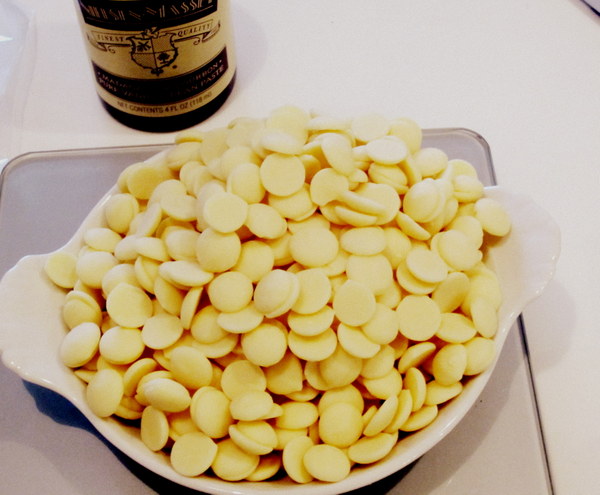 My white chocolate chips from Jane Asher, melt nicely in a double boiler on the stove top.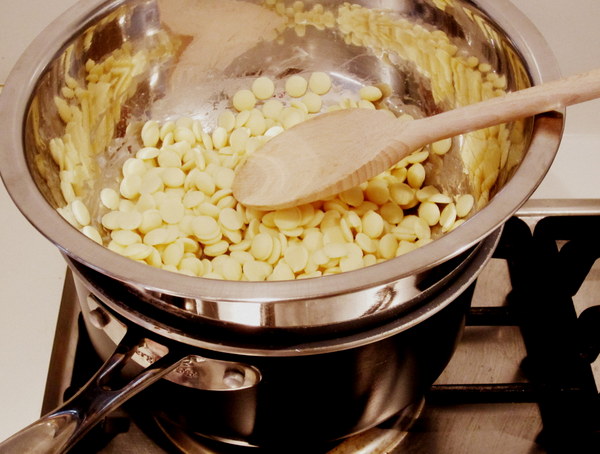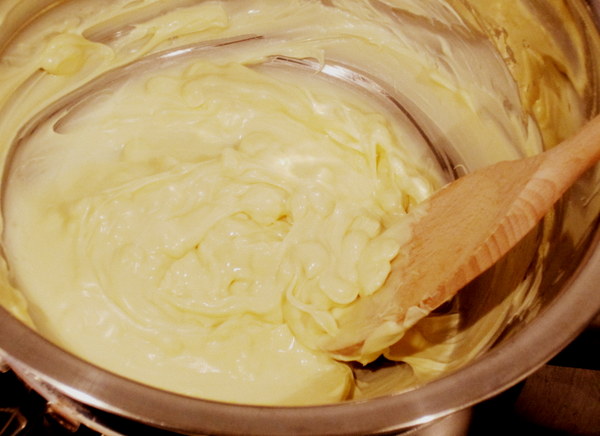 And poof! It magically turns into a double layer sprinkle covered belated vanilla birthday cake 🙂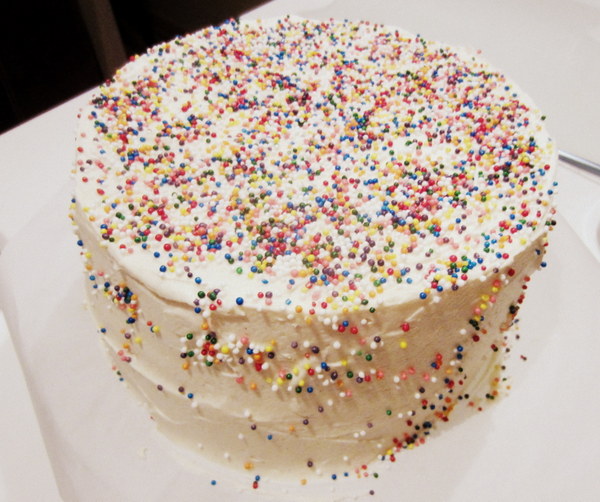 We sliced into it after dinner and it was pretty sweet (tasting and deliciousness).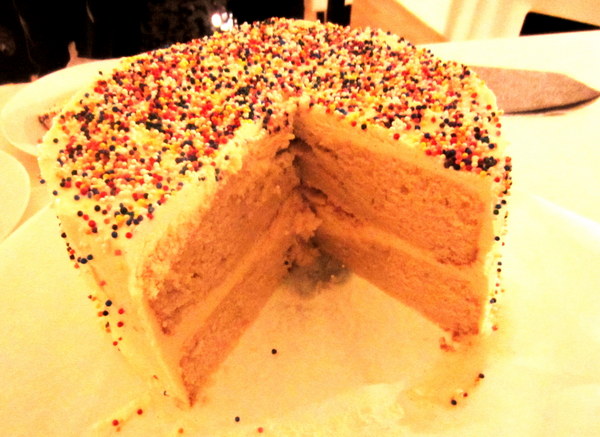 While I was assembling the cake, I thought to make four layers and perhaps put a layer of lemon curd or jam in between to cut down on the overly sweet white chocolate buttercream, but I was having trouble evenly cutting my layers so I nixed that idea and left it as a sweet, sweet cake.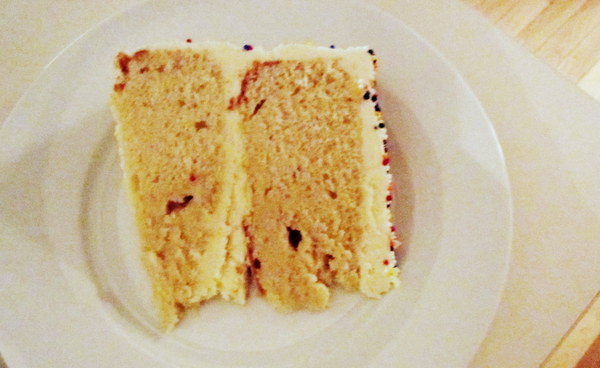 Vanilla Butter Cake (from Amy Atlas's book: Sweet Designs)
NOTE: I doubled her recipe and used two 8″ cake pans for taller cakes.  Her recipe indicates it makes enough for one 9-inch cake or 12 cupcakes.
1 stick of butter at room temperature
1 cup of sugar
2 large eggs
2 tsp vanilla
2 cups of all purpose flour
2 tsp baking power
1/2 tsp of salt (I omitted salt because I hate the salt I currently have- it makes things taste too salty)
3/4 cup whole milk (I used whatever milk I had in the fridge)
Heat oven to 350F.   Line your cake pan with parchment paper.
In an electric mixer, beat the butter and sugar until fluffy.  Scrape down the sides and continue beating while you add one egg at a time and then the vanilla. Sift the flour, baking powder and salt together in a small bowl.  With the mixer on low speed, add the flour mixture in two parts alternating with the milk.  Beat for 1-2 minutes until the batter is smooth.  Transfer to your cake pan.
Bake for approximately 17-20 minutes (mine took longer because of my small oven and the need to cook a double recipe for longer)- Watch your cakes and test to make sure the centre comes out clean.  Let the cake cool in the pan for five minutes and then transfer to a wire rack to cool completely.
What type of icing do you like to pair with a simple vanilla cake?  Do you have the Amy Atlas book? Have you tried making this cake recipe before?  I wish there was a chocolate version.