Posted by
sarah
on Oct 16, 2012 in
Barcelona
,
Design
|
0 comments
Man, am I craving some candy from Happy Pills in Barcelona.  Have you heard of this place?
They need to expand.  I love them, their design and their concept.
When I visited Barcelona in September, I went back to Happy Pills twice to make a little take-away box of gummies to enjoy while walking around!  Their concept is adorable-In a tiny storefront, they offer different sized boxes, and jars at the entrance for you to fill with all the gummy, colourful candy that fits in.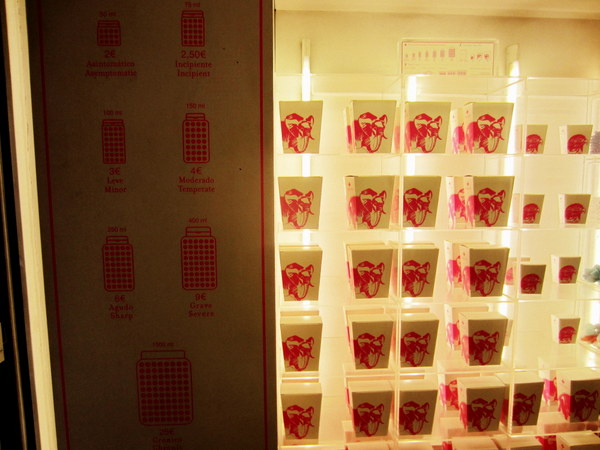 Their website creatively states that Happy Pills is a radical solution for a) Lovesickness b) Work Problems c) Friendship Damaged d) Sustained Sexual Effort.  I say, whatever your reason, if you love gummies, there is no better way to enjoy than eating them out of a take away container or a plastic "pill" bottle.
Photo Source: 1, 2, 3, 4 (me), 5, 6
They have four shops in Barcelona, one in Bilbao and one in Zaragoza, should you find yourself needing a candy pick-me up during your travels of Spain.
Here are some other people who seem to be happy with Happy Pills:
2. We Are Private Happy Pills Candy Store (Barcelona)