Posted by
sarah
on Oct 15, 2012 in
Copenhagen
|
0 comments
I am back from a rain filled birthday weekend in Copenhagen.  The rain held off on Friday (my birthday), but the rest of the weekend was pretty dreary and wet.  A little rain and cold did not stop us from exploring the city though.  With umbrellas, rain gear, gloves and scarves in tow, we walked all over the place to get a sense of the landscape of the city.
I think our best unintentional find was Agnes Cupcakes, Copenhagen's answer to the North American cupcake craze.  Agnes Cupcakes was started in 2010 in Copenhagen by founder, Kristian Vangsgaard.  Agnes runs on a calendar system of flavours so everyday, there will be a combination of staple flavours such as Red Velvet, Carrot and Dark Chocolate and specialty flavours such as Liquorice, Caramel, Sicilian Lemon, and Quince-tea.
The interior of Agnes Cupcakes is a combination of glass, marble and wood; a reflection of Scandinavian minimalism meets cupcakes.  I actually thought, their interior reminded me of Karas Cupcakes in San Francisco with its glass, and wood- or maybe I've visited too many cupcake shops and they are all starting to blur together.
I really liked the Agnes Cupcakes display case because their cupcakes are quite textured in their frosting and decor and visually looked attractive on display.  Some of their cupcakes are simple like the one I tasted with a swirl of icing and a fondant cutout on top (think Sprinkles). Others, in contrast, are rolled in chocolate curls, toasted coconut, sprinkles or other fun items to bite into.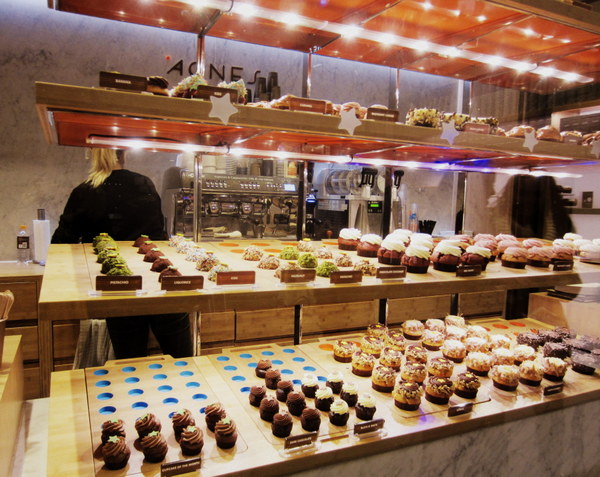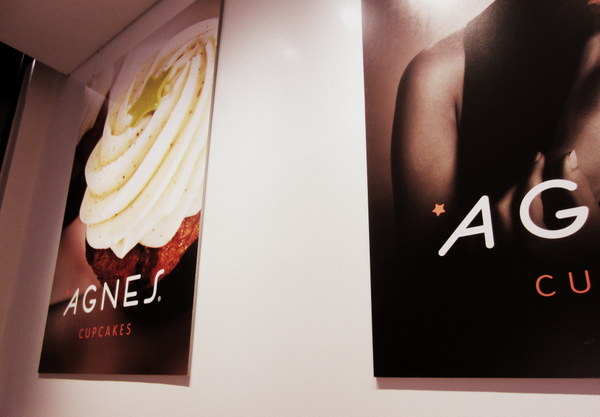 Take away cupcakes are packaged in beautiful, brown, branded boxes and dine-in cupcakes are served on a ceramic plate/platter that has a groove to hold the cupcake and a groove to hold a beverage.  Or I guess you could say there were two grooves for two cupcakes.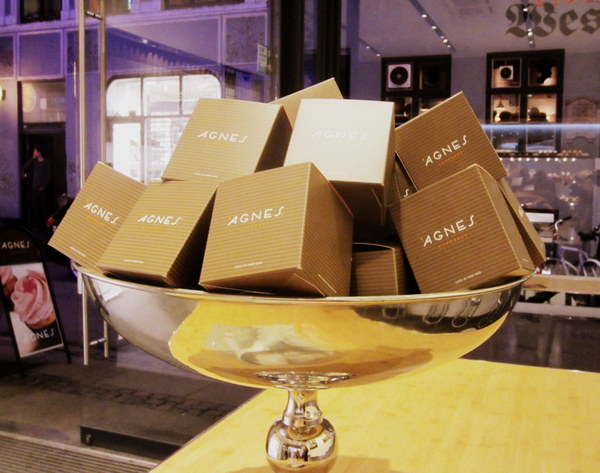 We arrived at Agnes at around 7pm for a pre-dinner birthday cupcake.  There was some promotion going on where you could buy a cupcake and a beverage for a reduced price, so we went with a tea and a carrot cake cupcake with a cream cheese frosting.  The carrot cake was spongy and moist and the cream cheese frosting had the tang I was looking for.  It was not the stiffest or densest cream cheese frosting that I've tasted, but its gooier consistency complement the carrot cake nicely.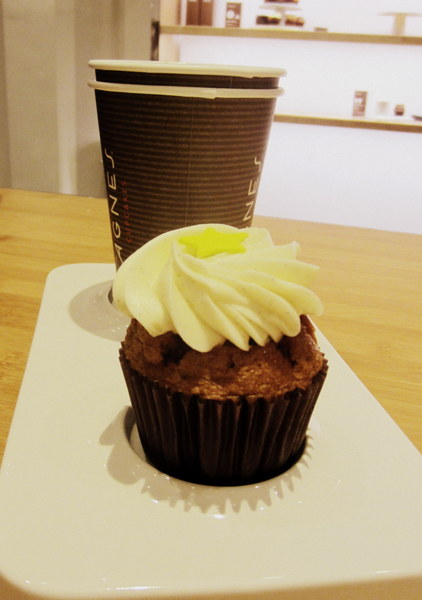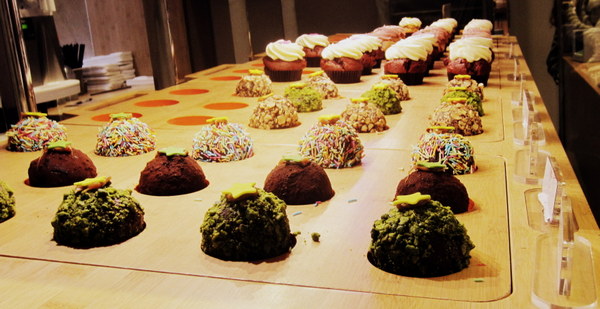 I am a firm believer that you can't judge a book by its cover, which is why we returned to Agnes Cupcakes on our last day in Copenhagen and sampled two (more) of their mini cupcake, just to make sure!
We also tested a dark chocolate cupcake that had a superb, rich, (bitter) dark chocolate frosting that was like biting into a truffle and their toasted coconut cupcake which was fun to eat thanks to all the little coconut shavings.
What I've learned from travelling and eating in Europe this past year (and from personal baking experience here) is that ingredients vary from country to country and things like flour consistency can really alter an end product.  I would say that Agnes' Cupcakes were spongy and moist but not dense, in comparison to a cupcake that you may taste in North America.  However the flavours and frostings were all terrific.  This is the real deal in Europe!
Other People Who Are Talking About Agnes Cupcakes:
2. Umamimart: Packaging w*&$^) Agnest Cupcakes
3. New City Mums: Agnes Cupcakes