Posted by
sarah
on Jul 17, 2012 in
Food
,
Vienna
|
2 comments
When asked what food I miss most in Toronto, it is usually a toss up between Chinese food and Israeli/Middle Eastern food.  For that reason, I made a beeline to  Neni, the hip Israeli cafe located in Vienna's Naschmarkt.  I went not once for breakfast at Neni that week but twice! It also helped that the hotel I was staying at was only four blocks away from Naschmarkt, so it was a quick walk over.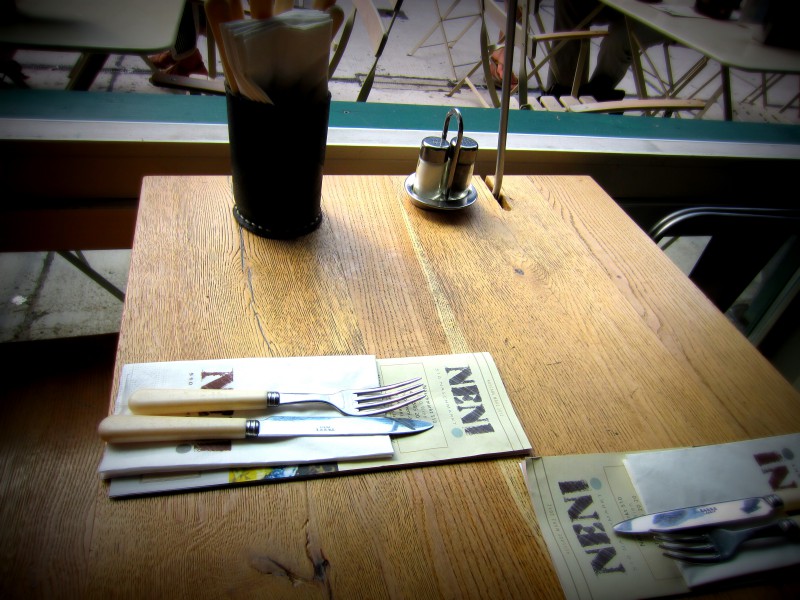 Neni is a chic Israeli cafe furnished with light wood tables, modern industrial furniture and no walls, which gives it a nice outdoor cafe feel. For my first breakfast I ordered their Shakshuka.  It was spicy, flavourful, messy and everything Shakshuka should be.  It came with a bag of pitas packed into a cute cloth bag. The pita, is a necessary accompaniment to sop up all the gooey egg yolk and tomato sauce you can't get on your fork.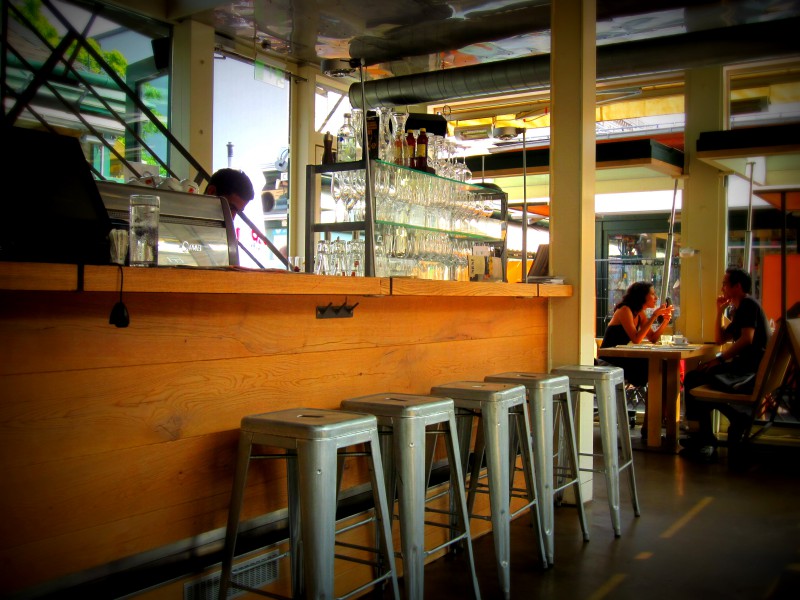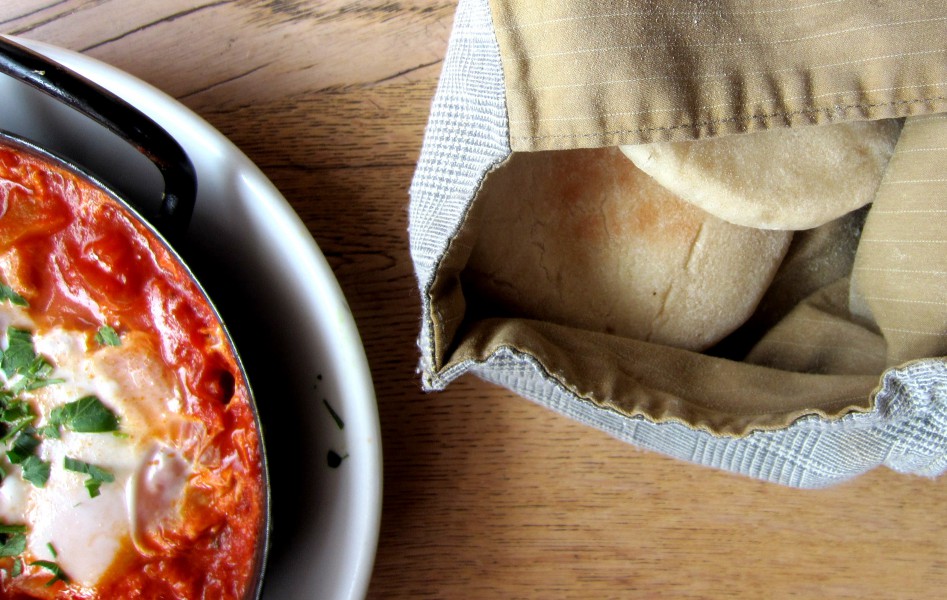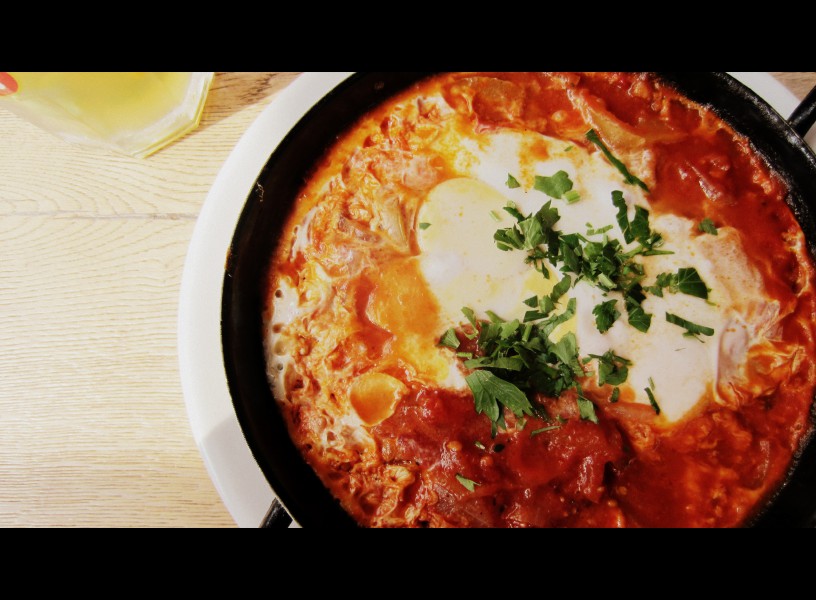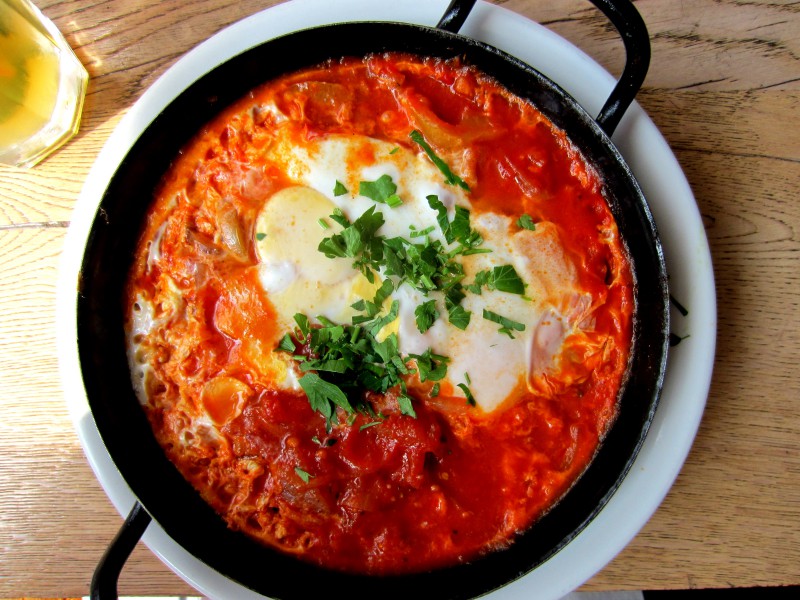 The second day I sampled the muesli which was decent but not the best I've tasted.  I would stick to the Israeli food here!  After eating my somewhat disappointing yogurt and oats, I wish I had ordered the Israeli breakfast or the Jam breakfast but because it was so hot outside the second morning, I opted for something lighter which was probably the better decision in hindsight.
If you have never tasted shakshuka, keep your eyes open for this dish where ever you live.  You don't have to get on a plane and fly to Tel Aviv or Vienna!  However I will warn you, for some reason, shakshuka is not one of those brunch items that pops up often enough on menus.  This is a shame because as a dish it is filling, healthy and blows your taste buds away with its winning combination of herbs, spices, tomatoes, eggs and peppers.
On the weekends, my fiance and I make one "special" breakfast and we decided, after eating shakshuka at Neni, we are going to test out replicating it at home for our Sunday morning breakfast treat.  We've been on a pancake run for about two months now (well he has- trying to perfect the perfect pancake recipe) and we were looking for our next experiment.  I think shakshuka is it.
For more shakshuka inspiration:
David Lebovitz just wrote a great post about Shakshuka earlier this month: Israeli Breakfast
Epicurious posted THEEEE Dr. Shakshuka recipe from the famous Tel Aviv restaurant: Shakshuka a la Doctor Shakshuka (or fly to Tel Aviv and taste the real deal yourself!)
Or if you are looking for something a bit more modern, try Yotam Ottolenghi's version published by the Guardian: Shakshuka recipe or this one from the LA Times.