Posted by
sarah
on May 24, 2012 in
Toronto
|
0 comments
One of the food items I find myself missing most while living in Prague is Middle Eastern food.  I love the flavours and components of Middle Eastern food so much that sometimes I think I was born in the wrong country or culture.  I could eat hummus, falafel, labneh, shawarma (good shawarma), kababs, kebbeh, babaganoush, and all the little accompanying salads that are part and parcel with Middle Eastern cuisine on a daily basis without getting board.  That is why I made a bee line to both Sababa Fine Foods (best lentil soup and pita bread in the city) and Paramount Fine Foods in Toronto (Thornhill to be exact for all you Torontonians who need a geographical reference).
While living in Toronto, I used to frequent both places for meals.  However, in addition to the delicious meats, salads and dips, I would occasionally indulge in an Arabic sweet or two.   Paramount's sweets are particularly good (and close by) so it was often my first choice when I had a craving for layers of filo pastry filled with chopped nuts, spices, honey, delicately flavoured with rose water.
The addition of rose water to honey and spices makes Arabic sweets stand out to me.   Rose water brings a lovely floral flavour to the pastry and magnifies the honey taste times 10.  It is also the difference between the taste of Middle Eastern baklava and Greek or Turkish baklava, but I may be wrong!  I am open to debate.
From baklava and kinafe to osmalieh and znoud al-sit, I love them all.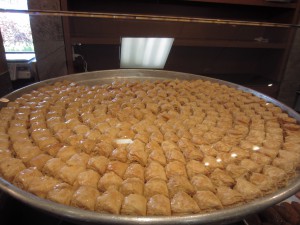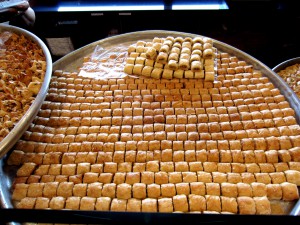 This type of dessert is my idea of heaven. While each sweet piece looks deceivingly small, they pack a punch when it comes to satisfaction.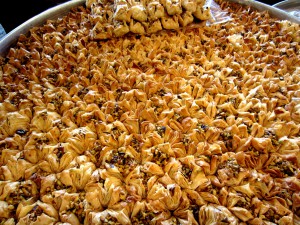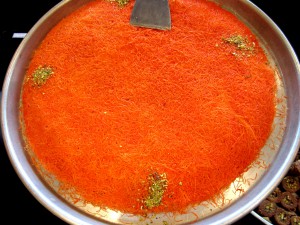 There is something so exciting about seeing a massive tray of symmetrical sweets neatly displayed behind a case of glass. It's the presentation and variety, and serving process which has always fascinated me and drawn me in.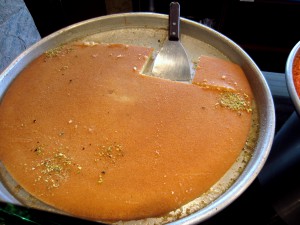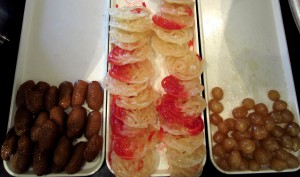 Paramount Fine Foods: 7315 Yonge Street, Toronto
Sababa Fine Foods: 390 Steeles Avenue West, Toronto
My trip to Paramount Fine Foods in Toronto was almost equally exciting as my visit to Pasam Baklava (Turkish baklava) in Berlin.  I can't wait to find my next great source of Arabic sweets on my travels through Europe.  Any recommendations you have, please leave me a comment.  I will be in Vienna, Munich, Tel Aviv, Toronto and Barcelona over the next three to four months.
If you are looking to experiment with rose water with pastry or dessert, I would recommend checking out the following recipes:
1. Cook Republic's Rhubarb and Rose water Crumble
2. 101 Cookbooks recommends: Rose water plum compote and rhubarb and rosewater syrup
3. Spoon Fork Bacon's Rose water glitter cake
4. The Kitchn's Rose water Ice (aka Faloodeh)