Posted by
sarah
on May 2, 2012 in
Food
|
0 comments
Good morning!!  I have a guest lecturer visiting my digital marketing class today and thought it would be nice to provide some breakfast-esque snacks to the bunch, so I made two types of corn muffins: Dried cherry corn muffins and a dried apricot lemon corn muffin.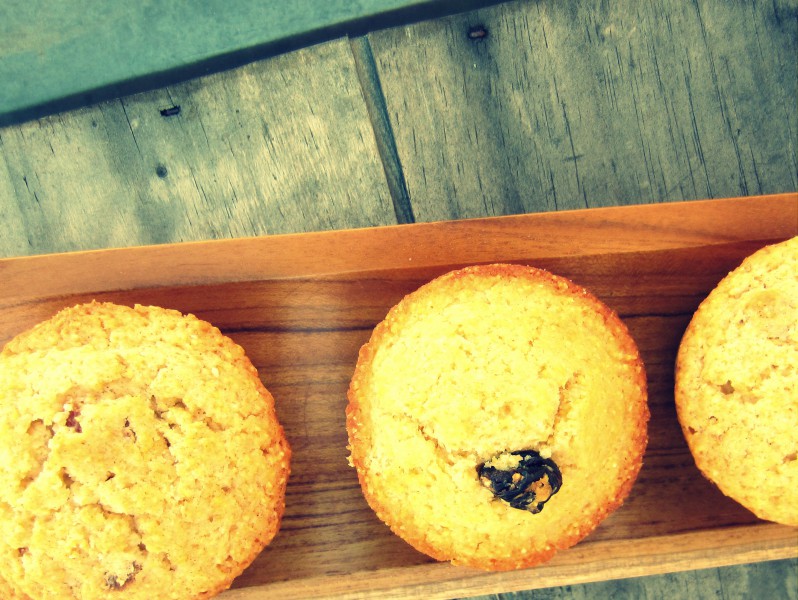 I had a big bag of cornmeal sitting in my baking drawer and every time I look at the yellow grains, I ask what can I make with that?  I am returning to Toronto in just over a week and I am trying to use up some supplies so I can replenish at home and bring some missed baking items back.
While searching for a cornmeal recipe online, nothing was jumping at me so  I turned to an older, favourite cookbook of mine called Baking by Flavour (originally published in 2002 in hardcover and recently re-release in softcover).  Perhaps you've heard of it??  It is an excellent encyclopedia for baking recipes, tips and tricks.  Lisa Yockelson, the author of the book and graduate of the London Cordon Bleu, offers readers 260 baking recipes which are easy to follow and you learn something about combining flavours and what goes well with what.  The book is divided into flavours such as baking with blueberries, baking with almond, baking with cinnamon.  In Baking by Flavour the recipe below is called Baby Blueberry Corn Muffins and they are supposed to be baked in teacake size miniature muffin cups.  I had neither blueberries nor miniature muffin cups so I made larger muffins out of the dried fruit I had in my cupboard and the recipe turned out great.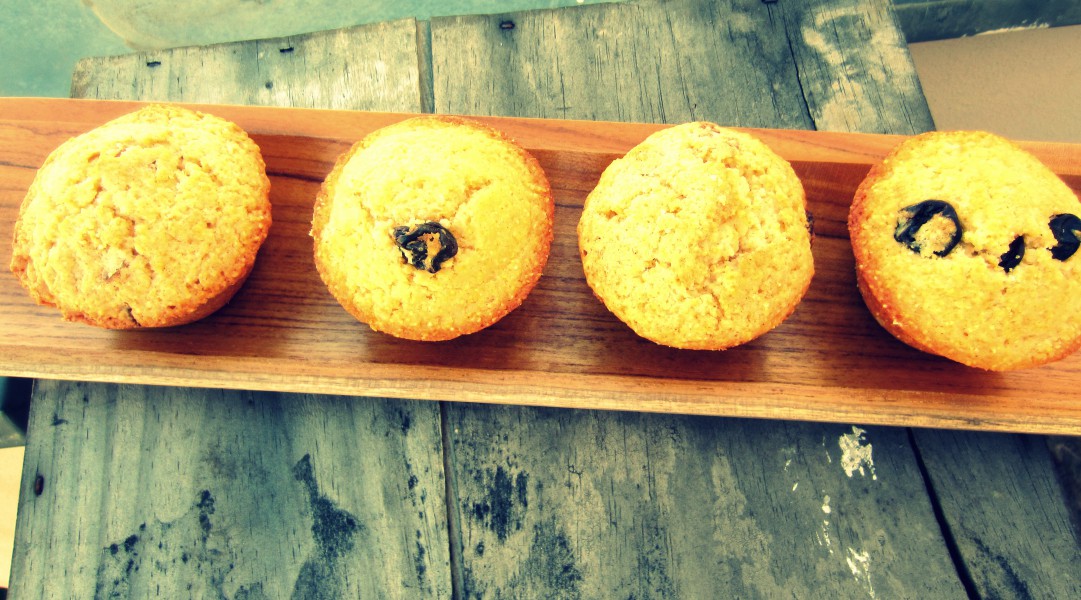 I altered the flour in the original recipe.  The first batch I made with one cup all purpose flour and one cup whole wheat flour.  In the second batch I used two cups of whole wheat flour and added a generous splash of almond extract.
Dried Cherry Corn Muffins (Adapted from Baking By Flavor p 180.)
Use any muffin tin- In a 12 muffin tin, this recipe made 15 muffins.  I ended up making a batch and a half to get the yield I was looking for.
2 cups unsifted bleached all-purpose flour
1 cup fine yellow cornmeal
3 tsp. baking powder
3/4 tsp salt
1/2 cup granulated sugar
1 1/4 cup dried cherries (she called for fresh blueberries here)
4 large eggs
1/2 cup milk
1 cup of melted butter (cooled)
1/4 tsp vanilla extract
1/4 tsp almond extract
Heat the oven to 400 C and butter or spray the inside of your muffin tin to prevent sticking and easy removal of the muffins.
Sift the flour, cornmeal, baking powder, salt and granulated sugar into a large bowl.  Add the dried fruit and toss lightly.  In a new bowl, whisk together the eggs and milk.  blend in the cooled, melted butter plus the vanilla and almond extracts whisking thoroughly.  Pour the liquid ingredients over the dry ingredients and stir to form a batter using a wooden spoon.  For puffy muffins, mix the batter lightly, making sure you mix in all the little flour pockets.  Here I used an ice cream scoop to transfer the batter from the bowl to the individual muffin tins which worked great.  Bake the muffins for 13-15 minutes or until they have risen and turn a golden colour on top.  Cool the muffins on a rack and then serve and enjoy!
Let me know if you try this recipe by leaving me a comment below or if you have another good corn muffin recipe in your repertoire.  I love to receive new recipe recommendations.