Posted by
sarah
on Apr 17, 2012 in
Food
,
Munich
|
0 comments
From a food perspective, I consider myself an omnivore who flirts with a vegetarian and vegan lifestyle.  Maybe that means I am a flextarian.  I have also heard that term tossed around in the food circles.  Labels aside, I eat meat.  Not a lot and not often but I do eat it every now and then when I get a craving for iron or whatever the reason my body is prompting me to choose meat.  One of the pleasures I have when travelling is eating at local burger joints.  The specialty burger shop is overdone (don't mind the pun) in North America.  Please note this is not a complaint.  The ubiquity of the burger that has been reinvented, re-topped, grilled, cooked, spiced, and rolled is wonderfully creative and as a off-and-on again consumer, I appreciate the efforts of these new burger warriors.
However, in Europe, the specialty or niche burger market is more of an anomaly; more the exception than the rule.  So when I find a place that looks like it might have good burgers, or perhaps I've read a review guiding my search of good burgers, I often pop in an check it out.  This past year, I have dined on burgers at Burgermeester in Amsterdam (goat cheese and apple burger to die for), Yes Burger in Prague (a solid chicken burger) and Die Burgermacher in Vienna (Oriental Lamb burger).  The newest addition to my list Hans im Gluck in Munich.  I expect this list to continue to grow, so if you live or will be travelling to Europe and want to jump on the European burger bandwagon, do check back for new recommendations.
As a restaurant, or burger grill, Hans im Gluck has a neat and unique interior with floor to ceiling real birch trees mirrored by birch tree wallpaper that looks like it could come from the Copenhagen based design company, Ferm Living. The restaurant also has wood panels on the walls, mixed high top and regular height tables, wooden tabletop accessories holding toppings in amazing Weck jars, and most importantly, an extensive menu of meat-non meat burgers that are messy, but quite satisfying.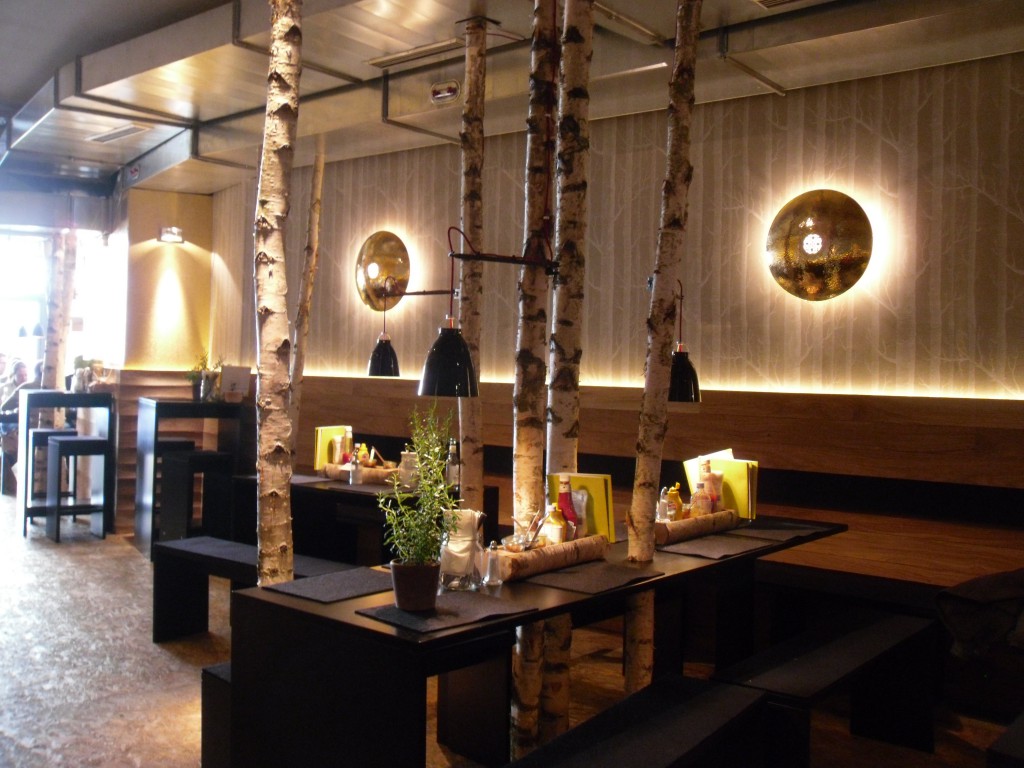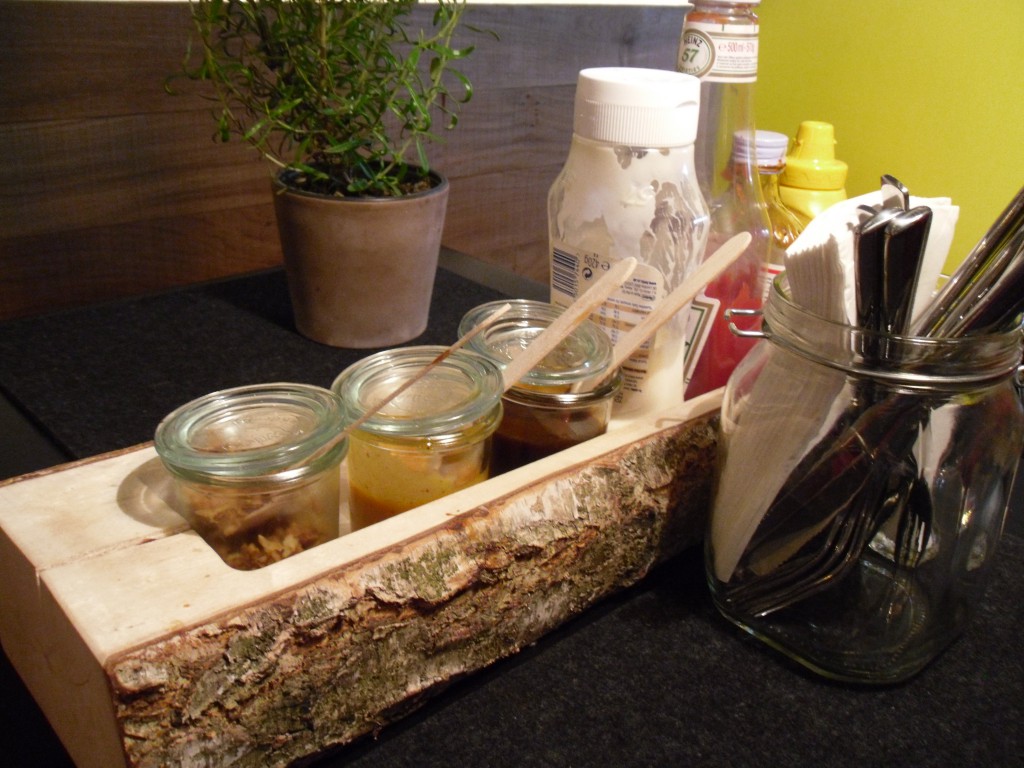 I tried a beef burger with hummus, olives and arugula that literally went all over the place and required two trips to the washroom to get the sauce off my fingers.  Given the interior design, I felt like I was sitting in a modern camp site or cool looking forest while eating a burger.  I expected the waitress to come over and ask whether I wanted a side of roasted marshmallows with my meal.  That was a joke.  I will be honest with you my dear readers, Hans im Gluck was not the best tasting beef burger that I have ever eaten, but it was a solid contender on innovative flavour combinations and all in all, I was satisfied with my late afternoon lunch.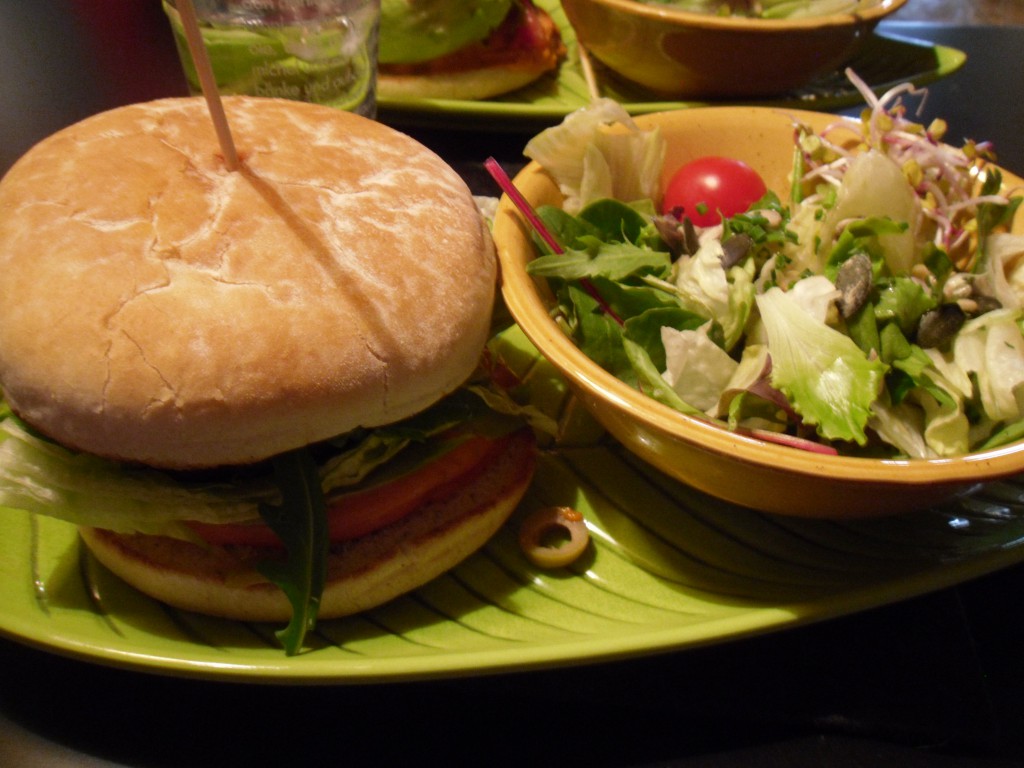 To appreciate the beauty of the restaurant's interior, I've included a couple other day time shots with better lighting.  Unfortunately when I snapped the pictures above, it was quite dark in the restaurant.  Any other cool European burger recommendations out there?  I'm always eager to learn about new spots.