Posted by
sarah
on Apr 3, 2012 in
Munich
|
0 comments
Every now and then it is important to treat yourself; to reward yourself for hard work, for completing a goal or just cause.  As a lover of exploration and the thrill I get of discovering new things, discovering Die Schokoladengalerie in Munich was a double treat.  I would describe Die Schokoladengalerie as a chocolate store that offers a wide selection of niche, European chocolate brands, as well as a mini patisserie where you can dine, in-store, on tarts, brownies, truffles and other pastries.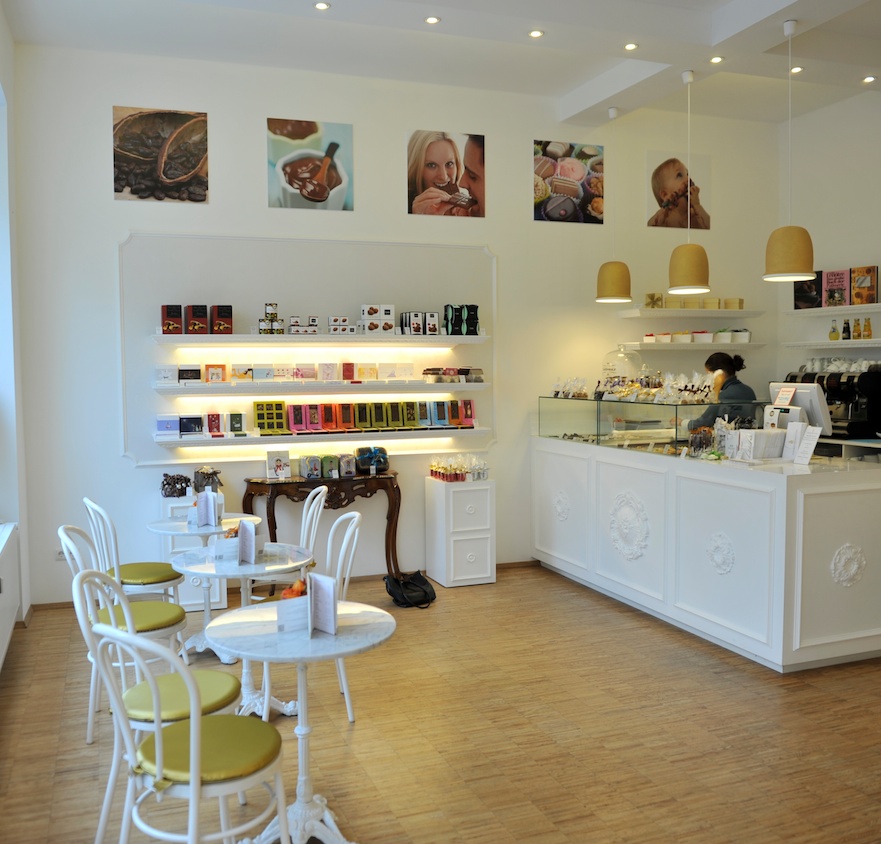 Photo Source: 1
Easter is in full swing around Europe (celebrated on a much more festive level than what I am used to seeing in Toronto) and so my first stop was to peruse the shop's Easter chocolate table.  I decided to try the egg half, front and centre wrapped in cellophane (see photo below).  It reminded me of a Cadbury Easter egg, although it tasted nothing like it!  I think this egg was made with fondant or marzipan and was pure sugar.
Photo Source: 2
Next I moved on to the real adventure, walking around the perimeter of the store to check out what niche chocolate brands Die Schokoladengalerie curated for my pleasure.  This was my favourite part of the experience as chocolate companies typically go all out in their package design to entice customers and I was happy to get caught up in their marketing efforts!
Photo Source: 3
I explored and had my first taste of Catanies by Barcelona based Cudie which is chocolate, almond, sugar, hazelnuts and vanilla rolled into a little ball dusted with cacao powder.
Then I was drawn to Quai Sud, from Toulon, France, which neatly packaged a dark chocolate square with strawberries and white pepper in a tear open, resealable bag, which I thought was rather neat and unusual for a chocolate bar.
Photo Source: 6
Next came Barcelona's Oriol Balaguer's Tableta de Chocolate- Chocoate Negro Grand Cru which is a 70% cacao blend of Venezuela and Trinidad blend.
Photo Source: 7
And finally, I rounded out my chocolate tour around Europe by purchasing a couple bars from Austrian chocolate company, Berger Feinste Confiserie.  I selected a whisky-orange chocolate square as well as a chocolate ginger square.
Photo Source: 8
If you are wondering whether I ate all this chocolate, the answer is no.  I did sample a few items at the store, but I mainly bought these squares to keep in the house for gifts and only reserved one or two for the emergency chocolate craving personal stash.
Have you come across any interesting chocolate brands lately?  Feel free to share your favourites in the comments section.  I love discovering new brands, especially those based in Europe where I can go check them out!