Posted by
sarah
on Feb 13, 2012 in
Food
|
0 comments
The making behind today's post, kept my fiance and I busy for a couple of hours on Saturday morning between the prepping, making, photographing, eating and cleaning.
I had the pleasure of testing out a great Valentine's day pancake recipe from Norene Gilletz, who I asked to write a guest post for Valentine's day.  Norene is a Toronto based leading author of kosher cookbooks in Canada. She a real going concern in the food industry and splits her time between being a food writer, culinary consultant, spokesperson, cooking instructor, lecturer and editor.  She also developed an amazing chocolate-chocolate chip pancake recipe, which my fiance and I got to eat on Saturday and that I am going to share with you today. We were truly stuffed after we made them and I would recommend sharing this recipe among friends.
Norene included a lovely introduction about her pancake recipe when we corresponded that I included below.
"Celebrate Valentine's Day with a heart-healthy breakfast and enjoy these scrumptious chocolate pancakes. You can mix up the batter the night before, then cook them up quickly for a special breakfast treat for your loved one(s). They also reheat in moments in the microwave.
Children (and grown-ups!) love it when you 'write' their initials with pancake batter! Pour the batter into the hot skillet to form the desired letters of the alphabet.  For Valentine's Day, use a heart-shaped cookie cutter and trace the outline onto a piece of waxed paper to form a heart-shaped template. Place the template onto each pancake and sprinkle with icing sugar through a fine sieve. How sweet it is!"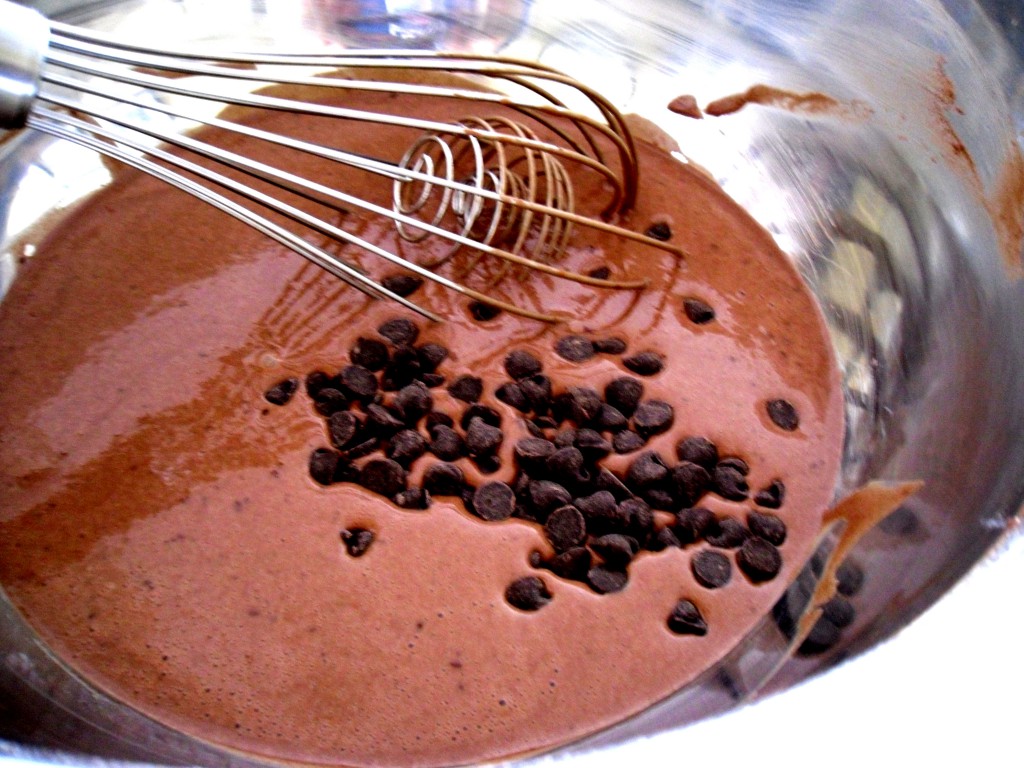 CHOCOLATE PANCAKES
Adapted from Norene's Healthy Kitchen by Norene Gilletz (Whitecap)
These pancakes taste like brownies – yum!
1/2 cup all-purpose flour
1/2 cup whole wheat flour
1/4 cup unsweetened cocoa powder
3 tablespoons granulated sugar
2 teaspoons baking powder
Pinch salt
2 large eggs
1 cup skim, 1 per cent or soy milk
2 tablespoons water
2 tablespoons canola oil
1/2 teaspoon pure vanilla extract
1/2 cup semi-sweet chocolate chips
Fresh or frozen raspberries or strawberries, for garnish
Vanilla yogurt, for garnish
Icing sugar, for garnish
INSTRUCTIONS
In a large mixing bowl or a food processor fitted with the steel blade, combine the flours, cocoa, sugar, baking powder and salt. Mix well. Add the eggs, milk water, oil and vanilla. Whisk together, or process for 8 to 10 seconds, until just smooth and blended. Using a rubber spatula, stir in the chocolate chips.
Spray a large non-stick frying pan with cooking spray and heat over medium heat for 2 minutes or until a drop of water skips on the surface. Drop the batter, using a scant 1/4 cup for each pancake, into the frying pan. Cook for 2 to 3 minutes, or until bubbles appear on the top. Turn pancakes with a spatula and lightly brown the other side for 2 to 3 minutes.
Transfer the cooked pancakes to a plate and keep warm in a 200-degree F oven. Repeat with the remaining batter, spraying the pan between batches. Because chocolate chips tend to sink to the bottom of the bowl, stir batter often.
Serve pancakes warm with berries, yogurt and or icing sugar.
Makes about 16 3-inch pancakes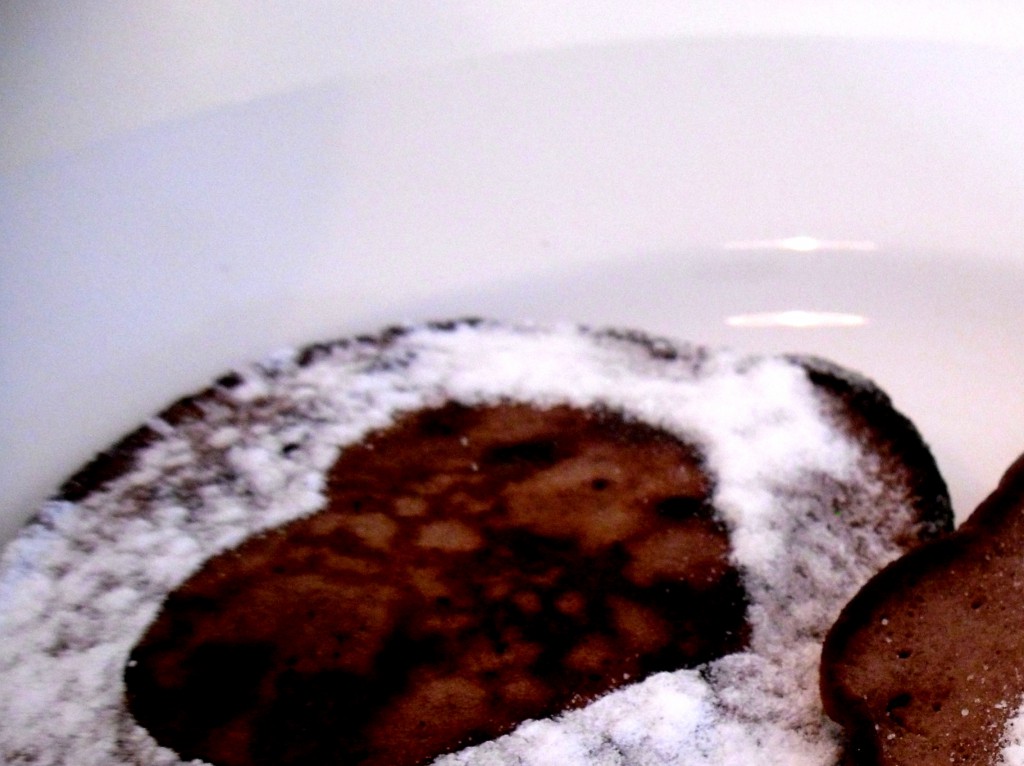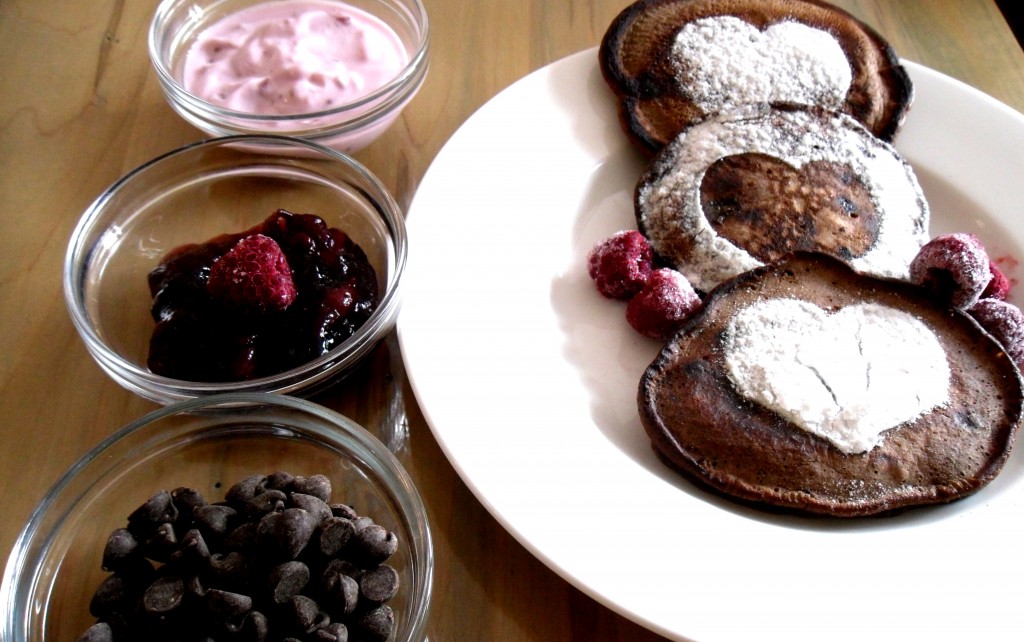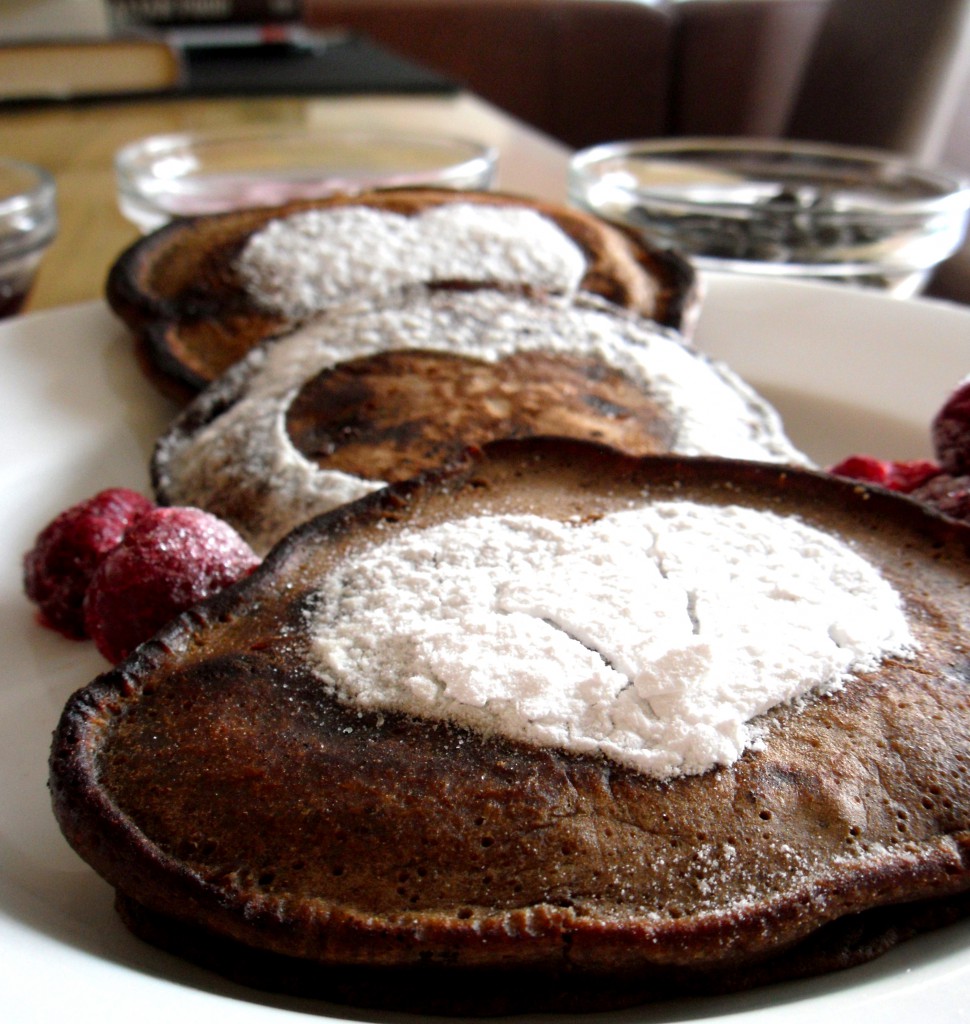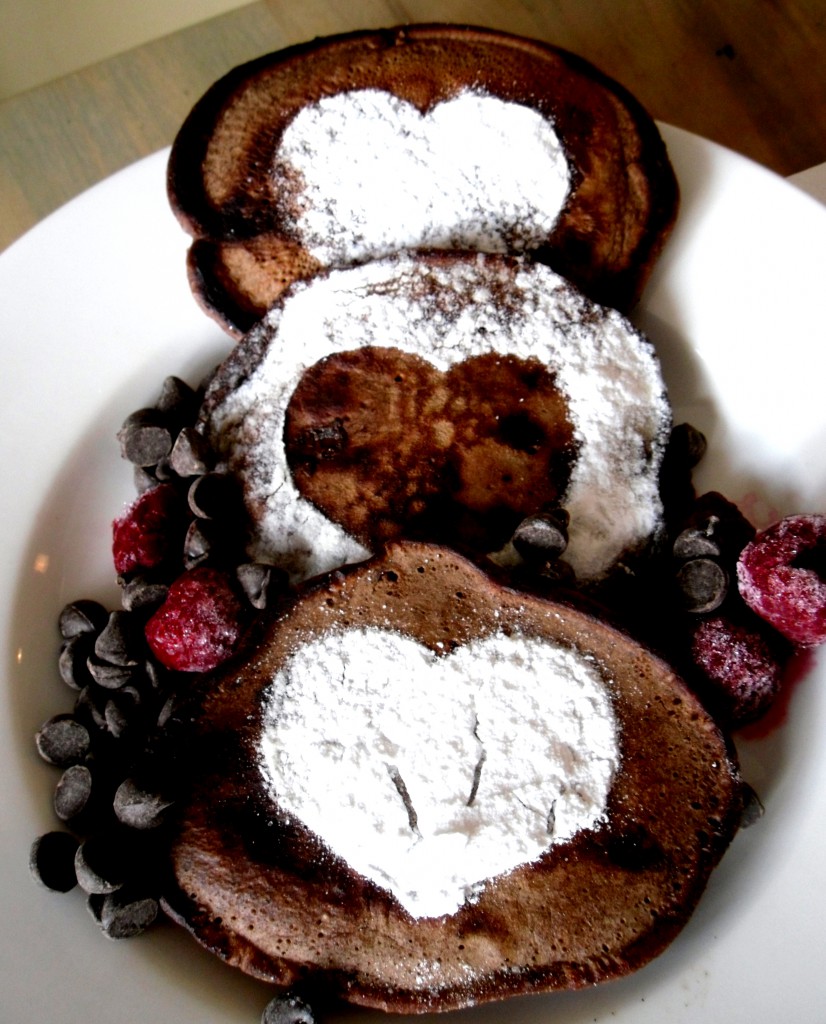 My notes:  We found we had to add almost another full cup of flour to Norene's recipe to get the batter to a thicker consistency.  Flour, when measuring by volume, can fluctuate which is why measuring by weight (in grams) can sometimes help you avoid undesirable consistencies or outcomes in baking.  We also didn't have any whole wheat flour in our pantry in Prague, so we just used 1 cup of all purpose flour.  I cut the heart out of paper and decided to use the negative and positive space of the cookie cut out to get variation on our pancakes.
The pancakes were filling, delicious and tasted great with raspberry yogurt, maple syrup, chocolate chips, and frozen raspberries!  Your Valentine will be happy to wake up to a batch of these tomorrow.  Or, just give them a shot instead of your regular pancake routine.  Chocolate, chocolate chip is decadent but a nice treat. Thank you to Norene for supplying a new pancake recipe topped with an icing sugar hearts.  If you want to see what else I have made of Norene's, her chocolate chip cookie recipe is another staple of mine.