Posted by
sarah
on Jan 30, 2012 in
Food
|
0 comments
My cookie making career has come full circle.  In the early days, inspired by the cafeteria cookies in Grade 7, my friends and I used to clamor for flat, gooey, semi-raw chocolate chip cookies.  And the funny thing, is that I remember our cookies that we baked, turned out just like the one's at school-flat, gooey and undercooked.
Then I graduated to baking mounds of dense chocolate chip cookies that rose in the oven instead of spread out, which soon became my new favourite.  I scooped these cookies out in ice-cream scoops or by the quarter cup and molded the domes on the baking sheet.  However, I came full circle on Sunday when I tried a new recipe out of The Hummingbird Bakery Cookbook, which was a holiday gift from my sister-in-law-to-be.   When I was organizing my ingredients, for some reason I thought there was a lot of butter and a lot of brown sugar, but maybe it was because I haven't baked chocolate chip cookies in a while.  It turns out, the batter was a bit on the sticky side and not the consistency I was used to working with so I added more flour.
The result, the recipe produced flat, chewy, gooey chocolate chip cookies (the first batch were semi-raw, a homage to the good old days) and they were tasty. The batch left my house this morning and were sent to the office and were gobbled up according to the reports.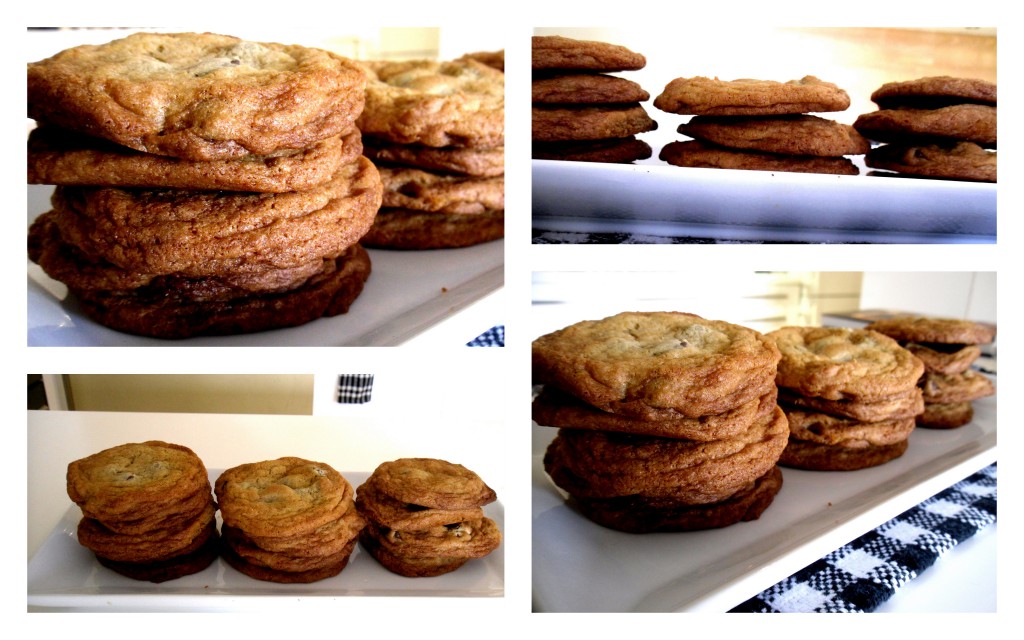 Recipe from The Hummingbird Bakery Cookbook
225 g of butter
350 g of brown sugar
2 eggs (room temp)
1/2 tsp of vanilla extract
400 g of flour
1/2 tsp of salt
2 1/2 tsp of baking soda
225 g of chocolate chips
Preheat oven to 325 degrees F or 170 degrees C-
In a mixer, mix butter and sugar until fluffy.  Beat in eggs one at a time.  Scrape down bowl after each egg.  Add the vanilla, mix again. Combine flour, baking soda and salt in a separate bowl, mix and then add to wet ingredients.  Add chocolate chips and scoop out onto baking sheet.  I baked mine for 10 minutes and they were golden brown- but of course watch and adjust depending on your oven temperature.
Enjoy with milk!
A new way to connect with Lamb411- Check me out on Bloglovin-
Follow my blog with Bloglovin